In lead up to vote on advancing the landmark Freedom to Vote Act, Senator Warnock joined MSNBC Daily to discuss the updated voting rights legislation and his role in crafting and shepherding the bill
On Monday, President Biden spoke by phone with Senator Warnock about the path forward to protect the right to vote for all eligible Americans
The Freedom to Vote Act improves access to the ballot for Americans, advances commonsense election integrity reforms, and protects our democracy from emerging threats
Senator Reverend Warnock: "Our democracy is in a 9-1-1 emergency and tomorrow we have the opportunity to put the fire out by passing the Freedom to Vote Act. This bill will secure our elections, it will make sure that every American has access to the precious right to vote no matter where they live, and it will address the poison and the toxin and the dark money in our election system. This is about the future of our democracy"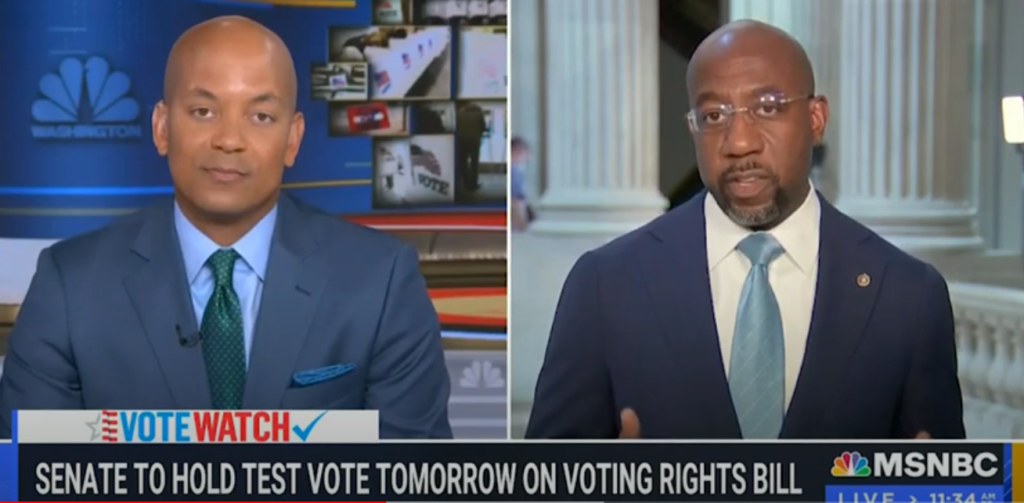 ***WATCH HERE for full MSNBC clip***
Washington, D.C. – Yesterday, U.S. Senator Reverend Raphael Warnock (D-GA) joined MSNBC anchor Geoff Bennett to discuss the importance of passing the Freedom to Vote Act ahead of today's expected vote to advance the bill. During the interview, Senator Warnock talked about his role in crafting and shepherding the bill forward after Senate Republicans blocked previous attempts to consider voting rights legislation, and urged his Senate colleagues to vote to open debate on the bill and give lawmakers the opportunity to discuss how to best address the issue of voting rights. Senator Warnock also reaffirmed his unwavering support for passing voting rights legislation this Congress, no matter what.
Key Quotes from Senator Reverend Warnock, below:
"Our democracy is in a 9-1-1 emergency and tomorrow we have the opportunity to put the fire out by passing the Freedom to Vote Act. This bill will secure our elections, it will make sure that every American has access to the precious right to vote no matter where they live, and it will address the poison and the toxin and the dark money in our election system. This is about the future of our democracy."
"I'm still hopeful that our Republican sisters and brothers on the other side of the aisle will at least allow us to have a debate out in the open tomorrow about the future of our democracy. And if they're not willing to have a debate, I think the American people ought to be asking why. Why won't they have a debate about the thing that is most fundamental to our country?"
"I was heartened yesterday by my conversation with the President of the United States and over these last few months – I know he understands the importance of this. It's an issue he worked on while in the Senate, as a member of the Senate Judiciary Committee. And back in the latter part of the summer when the Republicans blocked our ability to even have a debate on this issue, and we were beginning to talk more and more about infrastructure – which is something I absolutely support – I insisted then that we can walk and chew gum at the same time, we can deal with infrastructure while at the same time repairing the infrastructure of our democracy. After all, the only way we get to address climate change, health care, human rights, whatever your issue is, the only way we get to move and have progress on any of these issues in our country is that we have a democracy that's intact."
"I hope that the folks on the other side will agree to let us have a debate. I think it's really important to emphasize that, Geoff. I think that folks who go to work every day are not necessarily paying attention to all the nuances of what we do here in this house. Tomorrow's vote is a procedural vote. And here's the thing that I would say to my Republican friends on the other side of the aisle: there is actually agreement among the American people that there is something awry in our democracy. We all may have different takes on what that is, but we all agree, there is large agreement that there is something awry."
"This is a compromise bill and we're willing to hear from folks on the other side of the aisle. If they want to make a deal, make amendments, we've said bring them. And hopefully there will be enough of them to have a conversation. But if not, we must pass voting rights no matter what, and while I think there are many wonderful things that hopefully we'll get done this Congress, I think history will judge us harshly."
"If in this moment when we've seen a violent attack on our Capitol and we've seen debate and division in our country about the state of our democracy, if the world's most important deliberative body is not willing to debate this issue, I think history will judge us harshly and ought to. Our children are waiting and history is watching to see what we will do."
WATCH THE FULL VIDEO HERE.
###