Senator Warnock made stops in DALTON, ROME, CRANDALL, ATLANTA, MARIETTA and SMYRNA over course of the week
Following "Jobs for Georgia" stops earlier this month, Senator Warnock visited Q Cells, Appalachian Regional Port, Grady Memorial Hospital, the Atlanta Beltline and more to underscore the benefits of investing in infrastructure, spurring statewide economic growth and expanding Medicaid
Senator Warnock also made stops at Cobb County's Dobbins Air Reserve Base, Lockheed Martin, and Georgia Tech Research Institute highlighting the importance of military and defense to Georgia and nation, advocating for further federal investment to improve technology
ICYMI: Senators Reverend Warnock, Ossoff secure nearly $47 million dollar grant for Georgia Ports Authority, Senator Warnock visits Appalachian Regional Port
Senator Warnock recently called for increased investments in Atlanta Beltline to complete the project – WATCH Senator Warnock bike the Beltline
Senator Warnock at Dalton's Q CELLS factory: "It's important we create a future that is both ecologically sustainable and economically sustainable. We cannot we have one without the other. That's why companies like this are so important. This is a company, and this is a community, that will help us transition from the old industrial era to the industries of the future—green, sustainable" – MORE BELOW
Senator Warnock met with elected and chamber members of Floyd County, where he discussed what he's doing to boost Georgia's economy and improve health care outcomes – MORE BELOW
Senator Warnock after touring Grady Memorial Hospital: "I'm hoping to introduce legislation soon that will allow Georgians in the coverage gap and those who are low income to get coverage through the federal government while continuing to incentivize the state to finally expand its Medicaid program" – MORE BELOW
Washington, D.C. – This week, U.S. Senator Reverend Raphael Warnock (D-GA) traveled across North Georgia, Atlanta, and Cobb County to discuss and highlight his efforts on the federal level to bolster Georgia's economy, create good-paying, clean energy Georgia jobs, invest in infrastructure to connect communities and businesses across state, expand health care coverage gap, and further support the invaluable national defense installation, industry and innovation in the state. 

During visits to Q CELLS, Appalachian Regional Port, Grady Memorial Hospital, Atlanta Beltline, Dobbins Air Reserve Base, Lockheed Martin, and Georgia Tech Research Institute Senator Warnock underscored how Georgians stand to benefit from the provisions of the American Jobs Plan and American Family Plan, expansive legislation that will build upon the investment made through the American Rescue Plan to aid Georgia's continued economic recovery and help families, workers and communities thrive beyond COVID-19.
Q CELLS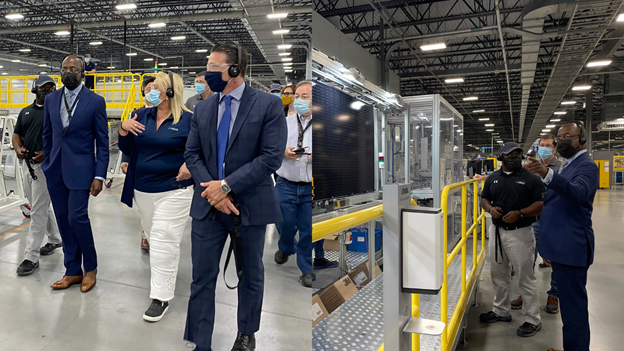 Senator Warnock at Dalton's Q CELLS factory: "It's important we create a future that is both ecologically sustainable and economically sustainable. We cannot we have one without the other. That's why companies like this are so important. This is a company, and this is a community, that will help us transition from the old industrial era to the industries of the future—green, sustainable"  
To kick off his "Jobs for Georgia" tour, Senator Warnock visited the Q CELLS Solar Panel manufacturing facility in Dalton. There, he highlighted theSolar Energy Manufacturing for America Act, legislation Senator Warnock co-sponsored in the Senate with Senator Ossoff to create tax incentives for every step of the solar manufacturing supply chain and create tens of thousands of jobs for Georgians at facilities like Q CELLS, supporting American energy independence, and accelerating the nation's transition from fossil fuels to clean energy.
"Since taking office, Warnock has made 'clean energy', which doesn't rely on fossil fuels such as petroleum and natural gas, one of his main focuses." – READ MORE via Dalton Daily Citizen-News
ROME
In Floyd County, Senator Warnock met with local community leaders and elected officials over lunch. Senator Warnock underscored his commitment to Georgia's families and workers as the state moves beyond this once-in-a-century pandemic.
"The goal, [Senator Warnock] said, is to meet with business and government leaders to ensure their needs are being met by Congress as well as to take advantage of an opportunity "to re-imagine the future."– READ MORE via Rome News-Tribune
APPALACHIAN REGIONAL PORT
At the Appalachian Regional Port in Crandall, GA, Senator Warnock highlighted his efforts on the Senate Commerce Committee to bolster the state's economy by strengthening rail and port infrastructure in Georgia and across the country.  In June, Senator Warnock introduced the bipartisan RURAL Act, alongside Senator Mike Braun (R-IN), to strengthen highway safety programs creating safer highway-rail grade crossing within the Surface Transportation Reauthorization Act. Recently, Senator Warnock secured a nearly $47 million grant to the Georgia Ports Authority that will bring the highly-anticipated Northeast Georgia Inland Port to fruition.
Senator Warnock visits Dalton, makes stops at Q CELLS and Appalachian Regional Port– WATCH MORE via WRCB-TV
GRADY MEMORIAL HOSPITAL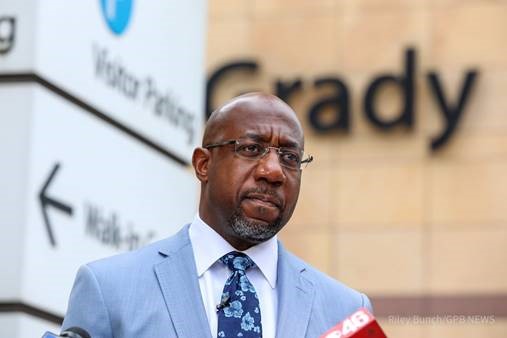 Senator Warnock at Grady Memorial Hospital on the necessity for Georgia to expand Medicaid: "I pushed the Biden administration to reject the work requirements that the state is trying to place right now on the citizens of Georgia in order to access the health care that they're already providing through their taxpayer dollar."
During a visit to Grady Memorial Hospital, Senator Warnock toured the hospital's facilities and underscored the importance of expanding Medicaid in Georgia, following the historic incentives to expand Medicaid included in American Rescue Plan.
At Grady Memorial Hospital, Senator Warnock explained how adequate, affordable healthcare coverage is inextricably related to saving lives, keeping Georgians healthy through accessible preventative care, and strengthening state and local economies that rely on urban and rural health care systems for jobs and care. Senator Warnock added that Grady Memorial plays a key role in keeping Georgia's families and communities healthy—before the pandemic, through the pandemic, and in the future.
Senator Warnock reiterated that expanding Medicaid is the single most effective solution to closing the state's health care coverage gap while investing in good health care job opportunities across the state.
Senator Reverend Warnock: "I happen to think that health care is a human right and that when we provide Medicaid expansion to working-class people, to poor people, we enable them to work and to find work" – READ MORE via Georgia Recorder 
Senator Reverend Warnock: "I pushed the Biden administration to reject the work requirements that the state is trying to place right now on the citizens of Georgia in order to access the health care that they're already providing through their taxpayer dollars" – READ MORE via Georgia Public Broadcasting
ATLANTA BELTLINE
Senator Warnock walked and biked the Atlanta Beltline with Beltline CEO, Clyde Higgs for a tour of finished and unfinished portions of the trail, where he reiterated his work at the federal level to push for investments to complete the project. There, Senator Warnock highlighted his targeted funding request of $5 million to complete the Southside trail.
Senator Warnock emphasized how completing the Southside trail—and closing the gap between the Beltline's completed Eastside and Westside trails—will ensure Atlanta's Southside welcomes pedestrians and cyclists traveling for work, school, local businesses, or recreation.
While on the Beltline, Senator Warnock met with small business leaders at the Best End Brewing Company, Pin and Proper, and other local community developers on how Beltline developments benefit their growth and improve their economic abilities.
Senator Reverend Warnock on Atlanta Beltline: "We talk about infrastructure, but really what we're talking about at the end of the day is about businesses. It's about housing. It's about people. It's about outcomes for the community. I'll be riding with you, not only on the trail, but in Washington to make sure we get this project done"  – READ MORE via CBS Atlanta
DOBBINS AIR RESERVE BASE
At Dobbins Air Reserve Base, Senator Warnock demonstrated his commitment to supporting Georgia's servicemembers and keeping the state's military installations and assets strong and their future secure, as a job creator and engine for the state's local economies. While on base, Senator Warnock highlighted the work he's done to strengthen federal support for Georgia's military and intelligence priorities, including investments that help support and spur job growth in and around Georgia's military communities. Previously, Senator Warnock visited Robins Air Force Base, Fort Gordon, and Fort Benning.
"We here in Georgia should take a great deal of pride in the fact that those planes, that equipment is also made right here in Georgia, producing Georgia jobs," [Senator] Warnock said of Dobbins and Lockheed." – READ MORE via the Marietta Daily Journal
LOCKHEED MARTIN
Senator Warnock toured Lockheed Martin where he observed the C-130 and F-35 production facility, and learned more on how the federal government can support aircrafts in the years ahead as Lockheed Martin remains a leader national defense in Georgia and across the country. Lockheed Martin officials underscored their appreciation for Senator Warnock's support for continued procurement of the C-130J and for fielding of the modern aircraft to Georgia's Air National Guard.
At Lockheed Martin, Senator Warnock highlighted his unwavering commitment to supporting the defense industrial base in Georgia as a key partner in job growth, emerging technology research, and the national security apparatus.
GEORGIA TECH RESEARCH INSTITUTE
Senator Warnock concluded his travels at Georgia Tech Research Institute (GTRI) where he received a briefing on the critical role the Institute plays within Georgia's state economy and the nation's cutting-edge research and applied technology. Senator Warnock highlighted how important STEM education is to our state, to the future of green innovation and to providing ample resources to students in an effort to build a stronger workforce for high-paying jobs across the state.
Senator Warnock secured funding through the passing of the bipartisan U.S. Innovation and Competition Act for federal, state, academic, and industry partners to expand research and development in emerging and critical technologies and augment Georgia's ability to compete nationally—and globally—as a leader in technological innovation.
Senator Reverend Warnock "I was so glad to help secure support in the U.S. Innovation and Competition Act to make sure we're investing in our nation's research institutions like Georgia Tech, so we can continue innovating the solutions that our military needs to keep our national defense strong and protect our service members" — READ MORE via Georgia Tech
###