On Tuesday and Wednesday, Senator Reverend Warnock met with Chambers of Commerce from across the state of Georgia to update them on the work he is doing in the Senate to support Georgia companies and keep the state's economy moving forward
On Tuesday, Senator Reverend Warnock participated in a special panel discussion on Georgia's agribusiness priorities with Senate Agriculture Committee Chairwoman Sen. Debbie Stabenow (D-MI)
Senator Reverend Warnock met with representatives from the Georgia Chamber of Commerce, as well as the chambers of commerce that represent North Fulton County, Golden Isles and Brunswick, Metro Augusta Metro Richmond County, Columbia County, Cobb County, and Albany
Senator Reverend Warnock: "In a real sense, farmers are an answer to a prayer that many of us pray every day: 'give us thy daily bread'…so, anything I can do to be helpful to folks who work in that sector — agribusiness, farmers, small farmers — I am here to do that"
Washington, D.C. – On Tuesday and Wednesday at the U.S. Capitol, U.S. Senator Reverend Raphael Warnock (D-GA) met with Chambers of Commerce from across the state of Georgia to update them on the work he is doing in the Senate to support Georgia's companies and keep the state's economy moving forward.
On Tuesday, Senator Warnock was joined by U.S. Senator Debbie Stabenow (D-MI), Chairwoman of the Senate Agriculture Committee, for a special panel discussion unpacking how Georgia's agricultural priorities are progressing in Washington in front of more than 100 leaders from the Georgia Chamber of Commerce. Senator Warnock, who also sits on the Agriculture committee and chairs the committee's panel on trade, discussed the importance of his successful efforts to secure federal relief for Georgia's farmers, as well as his efforts to remove burdensome trade barriers for Georgia agricultural products that will help strengthen economic opportunities for pecan and peanut farmers across the state, in particular. Senator Warnock also discussed the importance of Georgia's agricultural industry in Washington, and joined Senator Stabenow in highlighting the Agriculture committee's efforts to be responsive to the needs and priorities of Georgia's farming community as the committee prepares to start working to reauthorize the federal Farm Bill in the next Congress.
"When I got elected, they started talking about what committees I'd like to serve on, and I was clear that whatever other committees I served on, I wanted to be on Ag, Nutrition, and Forestry. Georgia is a big ag state, it's our largest export and I wanted to make sure that we had a voice and representation in light of the fact that things like the Farm Bill would be coming up. So, I am honored to serve on that committee. And, in fact, the very first tour that I had right after I was elected was an ag tour. And I've spent time moving around the state hearing directly from our farmers, hearing what they need, what their concerns are," Senator Warnock said during the agricultural panel with Chairman Stabenow. "I am honored to chair the subcommittee on Commodities, Risk Management, and Trade and I have used that perch to raise issues that are important to Georgia. A lot of the farm issues are regional, but I was also glad to work with the Senator from Alabama, Tommy Tuberville, to help Georgia's peanut farmers cut through trade barriers around aflatoxin [peanuts] to get their products to market. This is work that I think is important. I think in a real sense, farmers are an answer to a prayer that many of us pray every day: 'give us thy daily bread.' Farmers are an answer to that prayer. So, anything I can do to be helpful to folks who work in that sector — agribusiness, farmers, small farmers — I am here to do that."
In addition to meeting with the members from Georgia Chamber of Commerce, on Tuesday and Wednesday Senator Warnock also sat down with members from other chambers from across the state to hear their concerns, as well as discuss his efforts in the Senate to support federal investments in infrastructure improvements, workforce development and more that will help make Georgia's climate as hospitable for business and economic development as possible. Senator Warnock meet with representatives from the North Fulton Chamber of Commerce, the Golden Isles Chamber of Commerce, the Augusta Metro Chamber of Commerce, the Richmond County Chamber of Commerce, the Columbia County Chamber of Commerce, the Cobb County Chamber of Commerce, and the Albany Chamber of Commerce over the two-day period.
See below more photos from Senator Reverend Warnock's meetings with Chambers of Commerce from across the state of Georgia: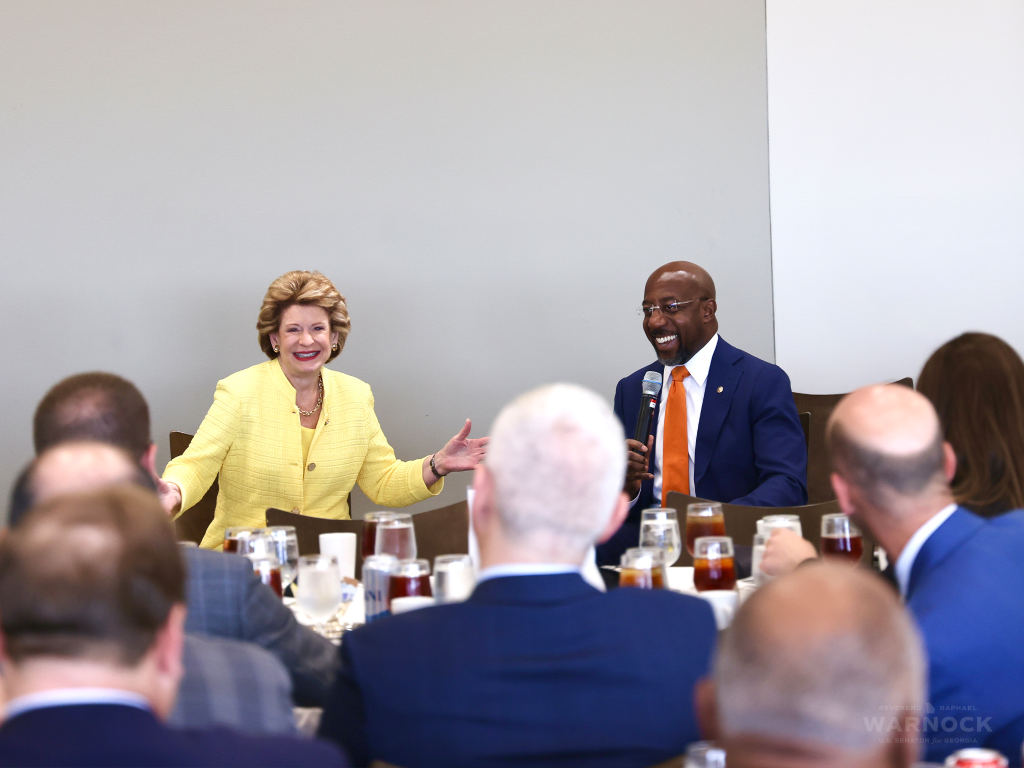 Click here to see photos from Senator Warnock's visits with the Georgia Chambers.

###