On visit to Athens, Senator Reverend Warnock informed students and the Athens-Clarke County community of his reconciliation priorities for Georgia's students and hardworking families across the country
While speaking with University of Georgia students and leaders, Senator Reverend Warnock highlighted the importance of UGA for statewide job creation in every industry from agriculture to business to journalism to health care and more
Senator Reverend Warnock attended a listening session with a diverse group of University of Georgia students, where he heard first-hand about the priorities of the future leaders of the state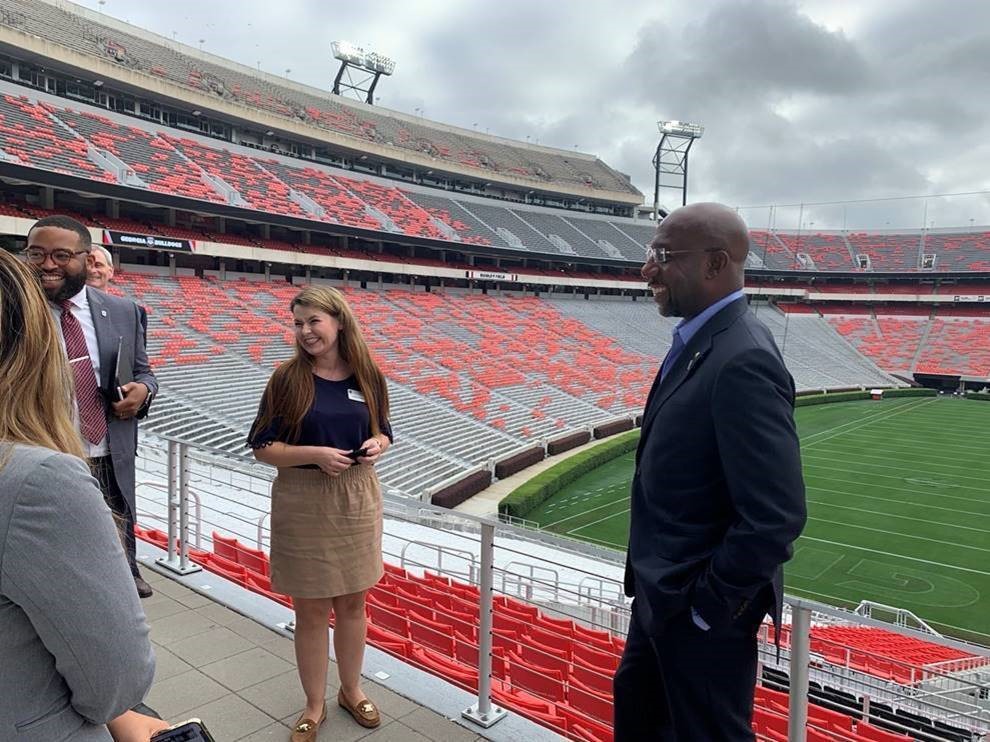 Athens, GA – Yesterday, U.S. Senator Reverend Raphael Warnock (D-GA) visited Athens, GA, the home of the University of Georgia, to meet with students, faculty, community leaders and other members of the Athens-Clarke County community. There, he discussed how his reconciliation priorities will help Georgia and hardworking families across the country: from lessening student loan debt, creating good-paying clean energy jobs, and assisting first generation home-owners. While speaking with University of Georgia students and leaders, Senator Reverend Warnock highlighted the importance of UGA for statewide job creation in every industry from agriculture to business to journalism to health care and more.
Earlier in the day, Senator Warnock convened a breakfast meeting with University Administrators, where he discussed what he could do at the federal level to ensure UGA remains a leader in public education and strengthen the school's status as a hub for cultural and technical growth for the state of Georgia. Senator Warnock gained insight on how the University of Georgia partners with other colleges and HBCUs across the state to build a robust statewide learning and innovation infrastructure to keep Georgia's economy moving forward.
Senator Warnock continued his tour with stops at the Interdisciplinary STEM Research Buildings construction and the Innovation Hub, where he spoke with an all-women's small business training class. Senator Warnock is a steadfast supporter of the U.S. Innovation and Competition Act and its push to increase research capacity for Georgia's academic institutions, including UGA's robust research program.
During a meeting with TRIO staff, Senator Warnock reaffirmed his commitment to ensuring that every Georgia student – no matter their income or background – could be able to achieve the dream of securing a college education. Senator Warnock reminded those present that if it were not for the Pell Grants and other federal programs which made his college experience affordable, he would not have been on the path that led him to become a U.S. Senator.
Senator Warnock also visited the Student Veterans Resource Center, which helps to better connect Student Veterans to university services. Senator Warnock has dedicated much of his time in the Senate to securing more resources for Georgia's military installations, servicemembers and veterans.
During a one-hour student listening session moderated by Dr. Susan Haire, Professor of Political Science and Director of the Criminal Justice Studies Program, Senator Warnock met with a diverse group of University of Georgia students to hear more about the priorities of the future leaders of the state. From first year undergrads to Medical students to National Panhellenic Council leaders to future innovators in Georgia agriculture, Senator Warnock discussed how he will continue to fight for Georgia students at the federal level– from alleviating student debt to climate resiliency to creating good-paying jobs to protecting the sacred right to vote – to ensure a bright future for the next generation.
Senator Warnock then sat down with UGA's independent student paper, the Red and Black, where he discussed supporting pandemic recovery, pursuing equity in education by supporting first-generation students and lessening student debt, and working to create more good paying jobs for graduates.
In the afternoon, Senator Warnock met with local elected officials and took a historic tour of Athens, where he visited small businesses and underscored his focus on helping Georgia get past the pandemic. Senator Warnock observed a moment of silence while visiting the Oconee Hill Cemetery, where formerly enslaved Africans were re-buried following the discovery of a mass grave under UGA's Baldwin Hall.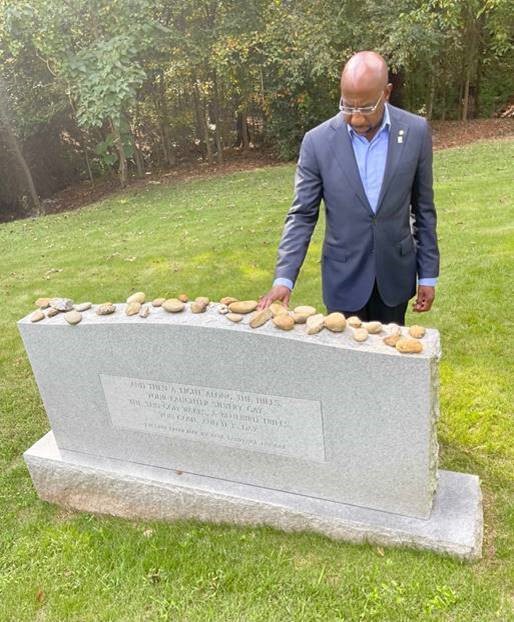 Senator Warnock ended the day meeting with Athens community leaders to discuss building back better as Georgians seek to move past the pandemic. Senator Warnock underscored the importance of expanded Child Tax Credits, affordable housing, and public transportation for building economic stability for hardworking families in Athens-Clarke County and across the state.
###