Today, Senator Reverend Warnock broke ground at Hyundai Motor Group's Metaplant groundbreaking & gave remarks at the Hyundai Community Celebration
In May 2022, Hyundai announced plans to build a $5.5 billion EV plant in Bryan County
Senator Reverend Warnock has been a vocal champion for creating green jobs and reducing America's reliance on fossil fuels
The Senator has focused on investments for Georgia's ports, including loosening up $8 million from the White House to ease congestion at the Port of Savannah when as many as 31 vessels were anchored outside the port
Lack of domestic semiconductors has previously led to work stoppages at Hyundai's Kia plant in West Point, GA, an issue Senator Reverend Warnock successfully addressed in the jobs and competition bill
Senator Reverend Warnock worked to strengthen Georgia's skilled workforce by investing in increased research and development capacity
Senator Reverend Warnock at the Metaplant Groundbreaking Ceremony: "I'm glad we were able to push the jobs and competition bill across the finish line—signed into law, which invest in the kind of domestic manufacturing that we're seeing right here… This is great news, great news for jobs, great news for young people who are looking for STEM research and development opportunities"
ICYMI from WABE: Georgia, Hyundai officials celebrate new electric vehicle plant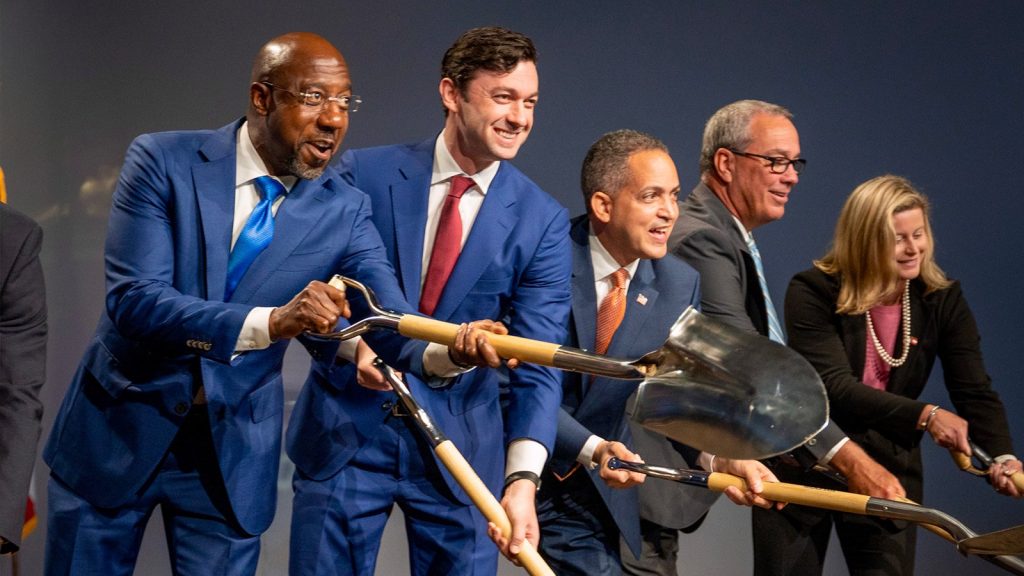 Photo credit: Office of Senator Jon Ossoff (D-GA)
Savannah, GA — Today, U.S. Senator Reverend Raphael Warnock (D-GA) joined elected officials and Hyundai Motor Group executives to celebrate Hyundai's Metaplant groundbreaking and Community Celebration. After close coordination with Senator Warnock, in May 2022, Hyundai announced plans to build a $5.5 billion electric vehicle (EV) plant in Bryan County in Coastal Georgia. The Senator participated in a groundbreaking event in the morning in Bryan County and gave remarks at a community celebration in Savannah in the afternoon. 
"I'm from this region of the state, I know Bryan County…" said Senator Reverend Warnock at Hyundai's metaplant groundbreaking ceremony."I'm glad we were able to push the jobs and competition bill across the finish line—signed into law, which invests in the kind of domestic manufacturing that we're seeing right here. I've been working with Hyundai officials over the past year and more as they've run into issues around supply chains. We've done what we can to strengthen our hand with the Savannah Port, at one point it was a major supply chain issue, I was able to get $8 million to address that. So I think all of those things move us closer to that goal and today we have this groundbreaking. This is great news, great news for jobs, great news for young people who are looking for STEM research and development opportunities."
The visit builds on Senator Warnock's efforts in creating good-paying green jobs and reducing America's reliance on imported fossil fuels. Earlier this month, Senator Warnock announced he secured over $178 million for a tentative Augusta EV battery plant , which would bring new 600 jobs to Richmond County.
The Senator has focused on investments for Georgia's ports, including loosening up $8 million from the White House to ease congestion at the Port of Savannah when as many as 31 vessels were anchored outside the port. Lack of domestic semiconductors previously has led to work stoppages at Hyundai's Kia plant in West Point, GA, which Senator Warnock successfully worked to fix in the jobs and competition bill. Senator Warnock worked to strengthen Georgia's skilled workforce by investing in increased R&D capacity.
In February, Senator Warnock announced that he secured nearly $20 million in funds from the Bipartisan Infrastructure Law to build out Georgia's EV infrastructure network across the state. Additionally, Senator Warnock has been in frequent contact with Hyundai about the auto manufacturer's footprint and future in Georgia, and has encouraged efforts on the federal level to bolster the company's presence—as well as EV and EV battery manufacturing, in general—in the state.
###