Bill would rename Atlanta Veterans Affairs Medical Center as the "Joseph Maxwell Cleland Atlanta Department of Veterans Affairs Medical Center"
Former senator of Georgia, veteran, VA Administrator and renowned advocate for veterans during a 50-year career, Max Cleland passed away in November at 79
Senator Reverend Warnock: "We loss a true giant of public service, a leader, difference-maker and passionate patriot with a big heart for our veterans and communities. It is with great privilege to bring Republicans and Democrats together to honor a man of his magnitude. May his life, legacy, and name live on forever in our hearts and in our spirits"
WASHINGTON, D.C. – Today, U.S. Senator Reverend Raphael Warnock (D-GA) led a bicameral, bipartisan group of lawmakers, with Senator Jon Ossoff (D-GA) and Representative Nikema Williams (GA-05), in a bill to rename the Atlanta Veterans Affairs Medical Center as the "Joseph Maxwell Cleland Atlanta Department of Veterans Affairs Medical Center" in honor of the late Senator Max Cleland of Georgia.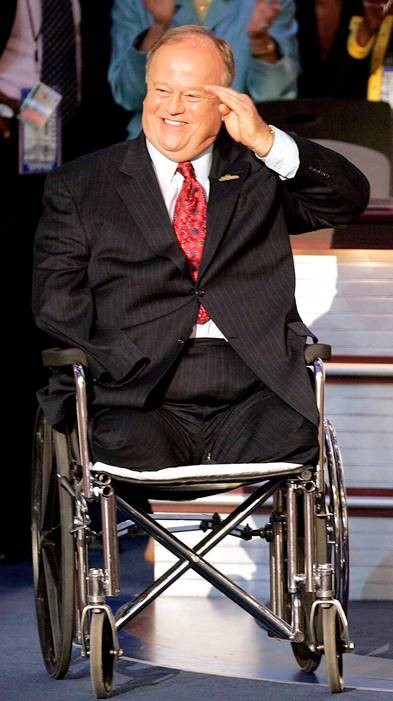 "As a new Senator for Georgia, I am honored to follow the long and noble legacy paved by Max Cleland in his 50 years of service to Georgians, veterans, and our country. Georgia and our nation have lost a true giant of public service, a compassionate leader and passionate patriot with a big heart for our veterans and communities. It is a great privilege to bring Republicans and Democrats together to honor a man of Senator Cleland's magnitude. May his life, legacy, and name live forever in our hearts and in our spirits," said Senator Reverend Warnock.
"Senator Cleland was a hero, a patriot, a public servant, and a friend. In renaming the Atlanta VA Medical Center in his honor, we honor his service and sacrifice by pressing forward to ensure all veterans in Georgia receive the highest-level of care they've rightfully earned,"said Senator Ossoff.
"Senator Max Cleland spent his entire career serving his fellow soldiers and veterans," said Congresswoman Nikema Williams. "Senator Cleland exemplified patriotism, inspiring every American. Renaming the Atlanta VA Medical Center after Senator Cleland means his legacy will continue to touch generations of veterans to come. I am proud to join my fellow members of the Georgia Congressional Delegation and Senator Reverend Raphael Warnock in this effort to rename the Atlanta VA Medical Center after one of Georgia's greatest sons and a true American hero."
Max Cleland lost three limbs in Vietnam defending our nation's freedoms, but that did not stop him from a decades-long career serving in public office and advocating for veterans. Cleland noted he was called to service; after retiring from the military he served as a Georgia State Senator, led the U.S. Veterans Administration under President Jimmy Carter, served as Georgia Secretary of State, and later served in the U.S. Senate. He was a recipient of the Silver Star and the Bronze Star for courageous action in combat. In 2009, President Obama nominated Cleland to serve as the Secretary of the American Battle Monuments Commission. Cleland's patriotism and love for mankind was often admired by his colleagues and the many who loved him.
The resolution was also co-sponsored by Senators Chuck Grassley (R-IA), Jack Reed (D-RI), Patrick Leahy (D-VT), Chuck Schumer (D-NY), Debbie Stabenow (D-MI), Jim Inhofe (R-OK), Susan Collins (R-ME), Patty Murray (D-WA), Ron Wyden (D-OR), and Dick Durbin (D-IL).
"Throughout his career, Max Cleland worked hard to make the world a better place and he did so much to help our veterans and people with disabilities. He was a forward-looking leader on many issues and especially when it came to helping veterans with mental health and treating the invisible wounds of war. Naming this building after him is a fitting tribute that will inspire others to live up to his legacy of service, kindness, thoughtfulness, and integrity," said Senator Reed.
"Serving in our armed forces is an unparalleled sacrifice on behalf of our country. With Senator Cleland's service in the Vietnam War, his dedicated leadership as the head of the VA, and his exemplary legacy of fighting for America's veterans in Congress, he embodied this sacrifice better than almost anyone," Senator Wyden said. "We must remain committed to giving our veterans the best care and opportunities we can, and renaming the Atlanta, Georgia VA after such a leader on veterans' issues is a great way to honor that commitment."
"I was honored to have worked alongside Senator Cleland in the Senate. He was a courageous, thoughtful leader who was driven by serving his fellow Americans, to veterans, and to his constituents in Georgia," said Senator Durbin. "His legacy and his contributions to our nation should not be forgotten. Renaming the Atlanta VA after Senator Cleland would serve as a memorial to his lifetime of service."
Read the bill text HERE.
###