Senator Reverend Warnock joined WDUN's "The Martha Zoller Show" to discuss the moral urgency of capping the cost of insulin for all who need it, regardless of insurance status
The Senator also previewed his visit to Northeast Georgia Medical Center to discuss his legislation to address alarming maternal mortality rates in Georgia and across the country
Senator Reverend Warnock: "You know diabetes is one disease, but one dollar out of four dollars in our health care system is spent on people with diabetes. So, if we can get some control over this, not only will it help people… I think it will help to impact the overall cost of our health care system"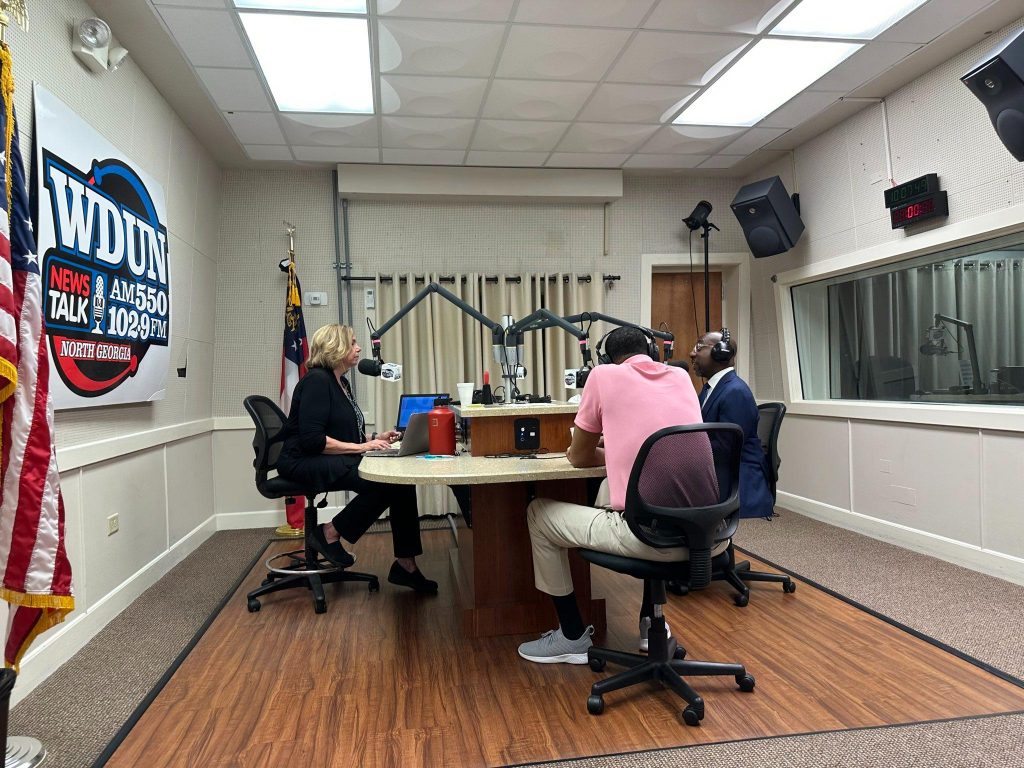 Senator Reverend Warnock speaking with Martha Zoller and Pastor Roderick Hughey, Sr. on "The Martha Zoller Show"
Washington, D.C. – U.S. Senator Reverend Raphael Warnock (D-GA) joined Georgia radio host Martha Zoller on WDUN's "The Martha Zoller Show" to discuss his bipartisan legislation to cap the cost of insulin at $35 for everyone. The Senator also previewed his visit to Northeast Georgia Medical Center to discuss his legislation to address maternal mortality rates in Georgia and across the country. Martha Zoller and the Senator were joined in studio by Pastor Roderick Hughey, Sr., Founder & CEO of the Community Church of Atlanta. The full interview is available HERE.
"So, here's why I've focused on insulin," said Senator Warnock on The Martha Zoller Show. "You know, diabetes is one disease, but one dollar out of four dollars in our health care system is spent on people with diabetes. So, if we can get some control over this, not only will it help people like Pastor Rod and others, I think it will help to impact the overall cost of our health care system. Insulin has been around 100 years, a century! And when it was invented, the patent was sold for $1. There's no reason for insulin to be expensive."
Senator Warnock has championed affordable access to insulin since coming to the Senate. In February 2022, the Senator introduced the Affordable Insulin Now Act of 2022, which would cap the out-of-pocket cost of insulin at $35 for insulin users on private insurance and Medicare plans. The Senator successfully built critical support for the legislation, including garnering co-sponsorships from a majority of Senate Democrats as well as securing the bill's bipartisan passage through the House of Representatives. Additionally, the Senator secured major endorsements for his legislation from important health care and diabetes advocacy organizations, including the American Diabetes Association. Later that year, Senator Warnock successfully secured a provision of his legislation—a $35 out-of-pocket cost cap for Medicare recipients—in the Inflation Reduction Act, which was signed into law in August 2022. In spring 2023, Senator Warnock joined Senator Kennedy to reintroduce legislation to cap insulin at $35 for privately-insured and uninsured insulin users. Thanks to the Senator's leadership, Republican Senators Katie Britt and Tommy Tuberville joined onto the legislation, and the universal insulin cost cap is in a strong position to be included in a bipartisan prescription drug pricing bill expected to come to the Senate floor this fill. In July, Senator Warnock joined Senators Warren and Blumenthal to release a new investigative report highlighting how, in spite of recent efforts by drug manufacturers and insurers to reduce insulin costs, many insulin users still don't have affordable access to the life-saving drug. Click HERE for a full timeline of the Senator's insulin leadership.
Read below a key excerpt from the Senator's interview. Full interview available HERE.
Roderick Hughey: "It's a lot of us out there that are not able to afford insurance. Martha and I have talked about this, my wife, we've talked, you know—that's not able to afford a house payment for insurance and just to get what we thought was insurance was, you know, here it is over $400 a month and we still don't have anything."
Senator Warnock: "So, here's why I've focused on insulin. You know diabetes is one disease, but one dollar out of four dollars in our health care system is spent on people with diabetes. So, if we can get some control over this, not only will it help people like Pastor Rod and others, I think it will help to impact the overall cost of our health care system. Insulin has been around 100 years, a century! And when it was invented, the patent was sold for $1. There's no reason for insulin to be expensive."
"It's expensive because too often in Washington, D.C., it's the moneyed interest, it's people who are well connected and well financed who get their way. And what we saw on this insulin fight is that as I and others began engaged on this issue in the public sector, it did also impact the private sector. So, we are starting to see insurance companies, pharmaceutical companies cap the cost of their insulin. And so I think that's that dance between the public and the private, but we have to center the concerns of ordinary people."
"I had a woman who was my guest at the State of the Union address and she is a graduate student, literally spent hours and hours on Facebook and on social media connecting with strangers in dimly lit parking lots to get, not illegal drugs but insulin, rationing insulin, people passing on insulin from dead relatives. If you need insulin, you need insulin. And I have seen up close as a pastor the impact of unmanaged diabetes— the amputations, the kidney failure, having to go on dialysis, the leading cause of blindness. And I'm deeply honored that I get to represent all Georgians on this and so many other issues."
Martha Zoller: "And you go back to even the results of COVID. I mean, if you look at the impact diabetes had on your ability to survive COVID, it was one of the biggest factors. So, it was a huge issue."
###