Today, Senator Reverend Warnock participated in the annual bipartisan floor reading of Dr. Martin Luther King, Jr's "Letter from Birmingham Jail"
For over 15 years, Senator Reverend Warnock has served as Senior Pastor at Ebenezer Baptist Church in Atlanta, the former pulpit of Reverend Dr. Martin Luther King, Jr.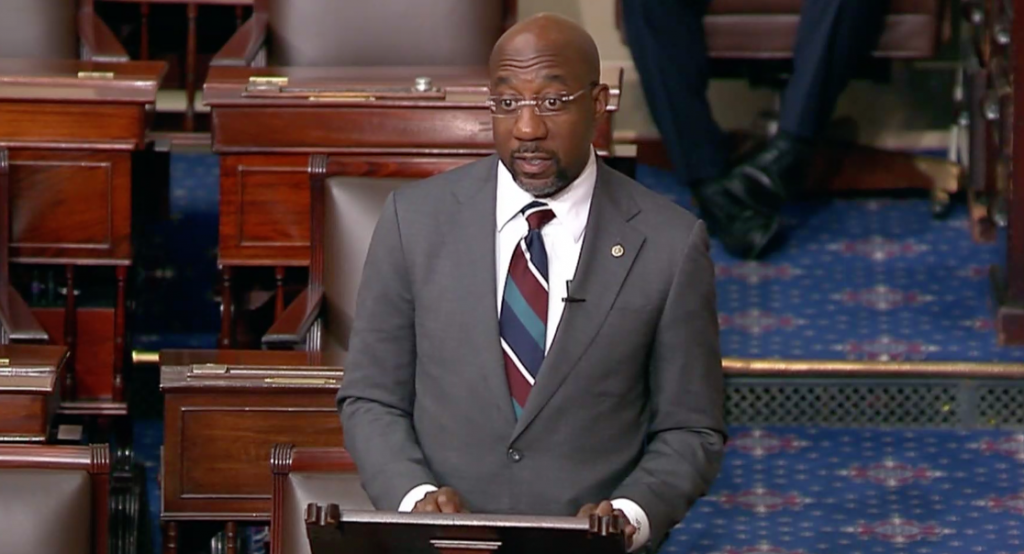 Washington, D.C. – Today, U.S. Senator Reverend Warnock (D-GA) participated in the annual bipartisan floor reading of Dr. Martin Luther King, Jr.'s Letter from Birmingham Jail, spearheaded by Senator Sherrod Brown (D-OH). For over 15 years, Senator Reverend Warnock has served as Senior Pastor at Ebenezer Baptist Church in Atlanta, the former pulpit of Reverend Dr. Martin Luther King, Jr. Senator Reverend Warnock closed out the reading, which you can find below:
"Abused and scorned though we may be, our destiny is tied up with America's destiny. Before the pilgrims landed at Plymouth, we were here. Before the pen of Jefferson etched the majestic words of the Declaration of Independence across the pages of history, we were here. For more than two centuries our forebears labored in this country without wages; they made cotton king; they built the homes of their masters while suffering gross injustice and shameful humiliation -and yet out of a bottomless vitality they continued to thrive and develop. If the inexpressible cruelties of slavery could not stop us, the opposition we now face will surely fail. We will win our freedom because the sacred heritage of our nation and the eternal will of God are embodied in our echoing demands. Before closing I feel impelled to mention one other point in your statement that has troubled me profoundly. You warmly commended the Birmingham police force for keeping "order" and "preventing violence." I doubt that you would have so warmly commended the police force if you had seen its dogs sinking their teeth into unarmed, nonviolent Negroes. I doubt that you would so quickly commend the policemen if you were to observe their ugly and inhumane treatment of Negroes here in the city jail; if you were to watch them push and curse old Negro women and young Negro girls; if you were to see them slap and kick old Negro men and young boys; if you were to observe them, as they did on two occasions, refuse to give us food because we wanted to sing our grace together. I cannot join you in your praise of the Birmingham police department.
"It is true that the police have exercised a degree of discipline in handling the demonstrators. In this sense they have conducted themselves rather "nonviolently" in public. But for what purpose? To preserve the evil system of segregation. Over the past few years I have consistently preached that nonviolence demands that the means we use must be as pure as the ends we seek. I have tried to make clear that it is wrong to use immoral means to attain moral ends. But now I must affirm that it is just as wrong, or perhaps even more so, to use moral means to preserve immoral ends. Perhaps Mr. Connor and his policemen have been rather nonviolent in public, as was Chief Pritchett in Albany, Georgia, but they have used the moral means of nonviolence to maintain the immoral end of racial injustice. As T. S. Eliot has said: "The last temptation is the greatest treason: To do the right deed for the wrong reason."
"I wish you had commended the Negro sit inners and demonstrators of Birmingham for their sublime courage, their willingness to suffer and their amazing discipline in the midst of great provocation. One day the South will recognize its real heroes. They will be the James Merediths, with the noble sense of purpose that enables them to face jeering and hostile mobs, and with the agonizing loneliness that characterizes the life of the pioneer. They will be old, oppressed, battered Negro women, symbolized in a seventy two year old woman in Montgomery, Alabama, who rose up with a sense of dignity and with her people decided not to ride segregated buses, and who responded with ungrammatical profundity to one who inquired about her weariness: "My feets is tired, but my soul is at rest." They will be the young high school and college students, the young ministers of the gospel and a host of their elders, courageously and nonviolently sitting in at lunch counters and willingly going to jail for conscience' sake. One day the South will know that when these disinherited children of God sat down at lunch counters, they were in reality standing up for what is best in the American dream and for the most sacred values in our Judaeo Christian heritage, thereby bringing our nation back to those great wells of democracy which were dug deep by the founding fathers in their formulation of the Constitution and the Declaration of Independence.
"Never before have I written so long a letter. I'm afraid it is much too long to take your precious time. I can assure you that it would have been much shorter if I had been writing from a comfortable desk, but what else can one do when he is alone in a narrow jail cell, other than write long letters, think long thoughts and pray long prayers?
"If I have said anything in this letter that overstates the truth and indicates an unreasonable impatience, I beg you to forgive me. If I have said anything that understates the truth and indicates my having a patience that allows me to settle for anything less than brotherhood, I beg God to forgive me.
"I hope this letter finds you strong in the faith. I also hope that circumstances will soon make it possible for me to meet each of you, not as an integrationist or a civil-rights leader but as a fellow clergyman and a Christian brother. Let us all hope that the dark clouds of racial prejudice will soon pass away and the deep fog of misunderstanding will be lifted from our fear drenched communities, and in some not too distant tomorrow the radiant stars of love and brotherhood will shine over our great nation with all their scintillating beauty.
"Yours for the cause of Peace and Brotherhood, Martin Luther King, Jr."
###