Today, Senator Reverend Warnock pushed the heads of the largest retail banks in the country to eliminate onerous and confusing overdraft fees that costs hardworking Georgia families money
Senator Reverend Warnock: "When it comes to costs for families, the country's biggest banks often set the pace for the rest of the country. This is why it is so important for us to hold the biggest banks accountable for the services they provide"
Senator Reverend Warnock: "I've seen personally, as a Senator, as pastor, the impact that these fees have on ordinary folks who are just struggling trying to make ends meet. So, this is an important issue, one that I'll stay on"
In May, Senator Reverend Warnock chaired a Senate subcommittee hearing which in part examined the negative effects overdraft fees have on hardworking families.in Georgia and across the country
In December 2021, the Consumer Financial Protection Bureau (CPFB) released a report revealing that many banks have a deep dependence on overdraft fees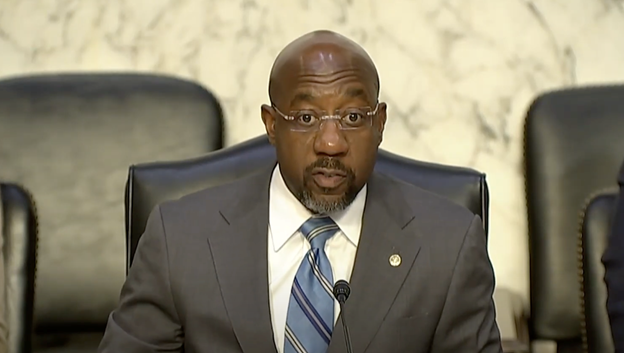 Washington, D.C. – Today at a Senate Banking Committee hearing featuring the CEO's of the nation's largest banks, U.S. Senator Reverend Raphael Warnock (D-GA)—the Chair of the Banking Subcommittee on Financial Institutions and Consumer Protection —directly pushed the heads of Wells Fargo, JPMorgan Chase & Co., U.S. Bancorp, and the PNC Financial Services Group to eliminate onerous and confusing overdraft fees.
"When it comes to costs for families, the country's biggest banks often set the pace for the rest of the country. This is why it is so important for us to hold the biggest banks accountable for the services they provide," said Senator Warnock
In May, Senator Warnock chaired a hearing which examined the financial services industry's practices and innovations around overdraft fees and the negative effects those fees have on hardworking families. In December 2021, the Consumer Financial Protection Bureau (CPFB) released a report that many banks have a deep dependence on overdraft fees
See below a transcript of Senator Warnock's exchange with leaders from the nation's top bank regarding their onerous fees:
Senator Reverend Warnock: "When it comes to costs for families, the country's biggest banks often set the pace for the rest of the country. This is why it is so important for us to hold the biggest banks accountable for the services they provide. Smaller banks imitate policies that you set for your banks throughout the nation. This is especially true for the fees you charge your customers. In a recent report, the CPFB detailed the crippling effects of overdraft fees and the impact that continues to have on families. Typically, these penalties fall on a small number of folks who carry most of the fees, with banks charging eighty percent of fees to only nine percent of account holders. Eighty percent of fees to nine percent of account holders. Typically, these lower-income folks are already struggling financially. These fees makes conditions worse and can keep them trapped in a cycle of debt. I do want to recognize that some of the banks present such as Citi and Bank of America have eliminated or taken strides to reduce their fees. Mr. Rogers, earlier this year Truist announced a new account type with no overdraft fees. How do these accounts affect customers' overall financial health, what are you seeing, especially for those who frequently overdraft and are lower-income folks?"
Mr. Bill Rogers, Chairman and CEO of Truist Financial Corporation: "Thank you Senator. Specifically, as to Truist One, this is an account with no overdraft fees but the other feature that is almost more important is it has a negative $100 buffer. So, in addition to not charging a fee, we did a lot of study and a lot work about much clients typically overdraw in terms of an amount. So, this $100 negative buffer is afforded to every client. It allows them to continue to transact. So not only do you not have fees but are able to pay the difference and take care [of bills]. In the activity that have seen, that is really important. We also have the Truist Confidence account and we've seen in that case and have tried to do some studies around this and learn more. We've actually seen new entrants into the banking system. Someone who was previously unbanked who might not come to Truist for some of our other account capabilities came into our system with these types of accounts. So, I think in addition to providing the buffers, we are bringing more entrants into the banking system, which I believe has got to be a goal for us."
SW: "Thank you. And some of the banks that are testifying today still have restrictive policies in place that make it difficult for hard-working families to meet their basic needs. So, I'd like to ask each of you — will you commit today to work to eliminate onerous fees? A simple yes or no would suffice. And you can elaborate in writing after the hearing. I'll begin with you, Mr. Scharf , would you work to eliminate onerous fees?"
Mr. Charlie Scharf, CEO and President of Wells Fargo: "Senator, we have an account that does not have fees. So, the customer does have the option. And we are going to continue to look at our fee structures."
SW: "Mr. Dimon?"
Mr. Jamie Dimon, Chairman and CEO of JPMorgan Chase & Co.: "I would say the same thing. We've already made a lot of changes since that report, which I'd love to share with you. And we have the same type of way to make it easier for people. I do think giving people a choice and letting them opt in or out is proper thing to do and it actually saves them from far more pain and suffering. They don't bounce a check or something and a lot of people get charged a lot more on the other side. So, we looked at this and said it is more respectful. I agree with the fact that it gets misused sometimes and we got to do a better job at counseling, closing, et cetera for those who it's just too much.
SW: "So, you're committed to doing a better job?"
JD: "Yes."
SW: "Mr. Cecere?"
Mr. Andy Cecere, Chairman, President, and CEO of U.S. Bancorp: "Senator, we also have an account that provides no overdraft fees. I think an important component of this as well though is education and alerts to the customers when they are entering a situation that they may overdraft and help them in advance with other alternatives and that is something that we are also focused on."
SW: "Mr. Demchak?"
Mr. William S. Demchak, Chairman, President, and CEO of PNC Financial Services Group: "Senator, we led the charge to drop overdraft fees. We have two accounts with no fees. We have a unique product that actually allows the client to choose in the moment if they want to return the item or pay the item. And we'll continue to look on how to improve that."
SW: "I've seen personally, as a Senator, as pastor, the impact that these fees have on ordinary folks who are just struggling trying to make ends meet. So, this is an important issue, one that I'll stay on."

###