Senator Reverend Warnock, member of the U.S. Senate Agriculture committee, lifted up the challenges of Georgia foresters at yesterday's hearing and highlighted his bipartisan solution to ensuring foresters aren't devastated by natural disasters
In February, Senator Reverend Warnock joined Senator Cassidy in introducing the Disaster Reforestation Act, which would provide financial certainty for foresters if a natural disaster damaged their yield
Senator Reverend Warnock: "Right now, private landowners who own or manage more than 58% of our nation's forests are on basically on their own financially when hurricanes, wildfires, and other natural disasters, some of these disasters driven by climate change, wipe out acres of their forests—even though these forests help provide clean air, pure water, and quality jobs for our communities"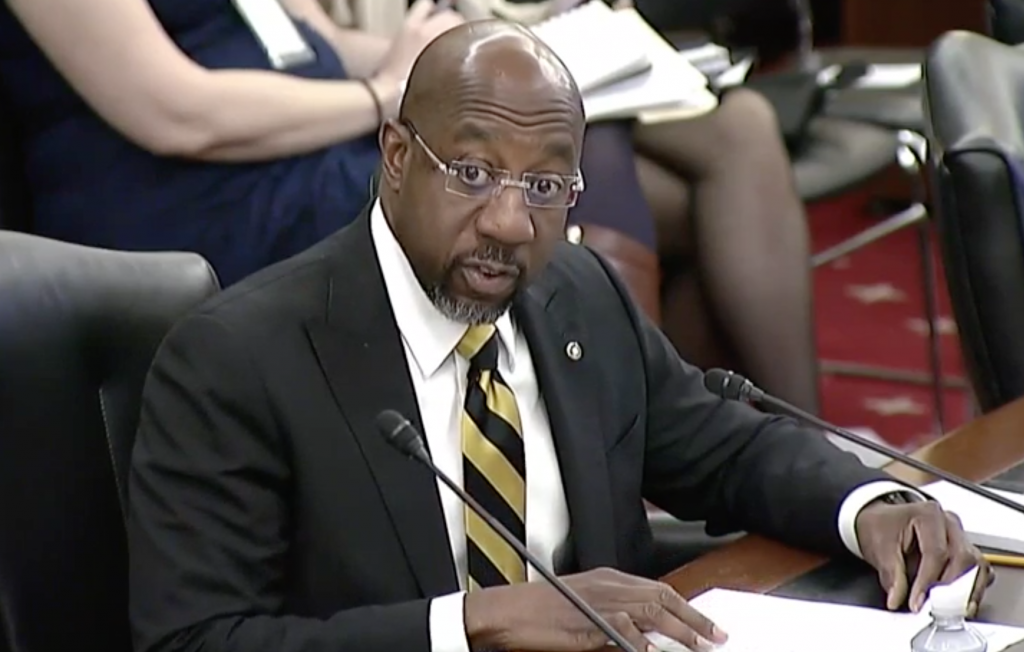 Washington, D.C. — Yesterday, during a hearing of the U.S Senate Agriculture subcommittee focused the forestry sector, U.S. Senator Reverend Raphael Warnock (D-GA) lifted up the challenges and risks that foresters face in Georgia, calling for federal support for the sector as the full Agriculture panel crafts the 2023 Farm Bill. The Senator, who represents the #1 forestry state in the nation, worked across the aisle to partner with Senator Bill Cassidy (R-LA) to introduce Disaster Reforestation Act, which would provide financial certainty for foresters if a natural disaster damaged their yield; the Senator is working to include his bipartisan legislation in the Farm Bill. The Senator has been laser-focused on ensuring Georgia foresters are able to maintain their competitive edge in the face of increasing extreme weather.
"Right now, private landowners who own or manage more than 58% of our nation's forests are on basically on their own financially when hurricanes, wildfires, and other natural disasters, some of these disasters driven by climate change, wipe out acres of their forests—even though these forests help provide clean air, pure water, and quality jobs for our communities," said Senator Reverend Warnock."So they're not the only who lose, all of us do. That why I have partnered with my friend, Senator Cassidy to introduce the bipartisan Disaster Reforestation Act, which would allow landowners to deduct the value of timber damaged by a natural disaster – allowing these family forest landowners to replant their forests."
Senator Warnock is focused on securing key wins for Georgia foresters in this years' Farm Bill. Additionally, the Senator is working to expand resources to support export opportunities for Georgia's farmers and agribusinesses, expand access to credit and technical assistance for beginning farmers and underserved farmers, protect vital federal nutrition benefits and boost Georgia institutions like Fort Valley State University and the University of Georgia through USDA's agriculture research and extension program.
See below key excerpts from Senator Warnock's Agriculture Committee Hearing:
"Georgia's private working forests account for about 91% of Georgia's total forest acreage. But when natural disasters strike, Georgia's family forest landowners are forced to make incredibly difficult decisions…"
"Forest landowners are unlike any other agricultural producers because they don't have an annual crop, they've got one crop that takes about 25 years to grow and be ready for harvest."
"Right now, private landowners who own or manage more than 58% of our nation's forests are on basically on their own financially when hurricanes, wildfires, and other natural disasters, some of these disasters driven by climate change, wipe out acres of their forests—even though these forests help provide clean air, pure water, and quality jobs for our communities. So they're not the only who lose, all of us do."
"That why I have partnered with my friend, Senator Cassidy to introduce the bipartisan Disaster Reforestation Act, which would allow landowners to deduct the value of timber damaged by a natural disaster – allowing these family forest landowners to replant their forests."
"That's commonsense bipartisan legislation. I hope we can get it over the finish line in the Farm Bill this year."

###