Senator Reverend Warnock announced his support for Judge Jackson last month after meeting with her in-person
Senator Reverend Warnock: "For my five-year-old daughter and for so many young women in our country… seeing Judge Jackson ascend to the Supreme Court reflects the promise of progress on which our democracy rests"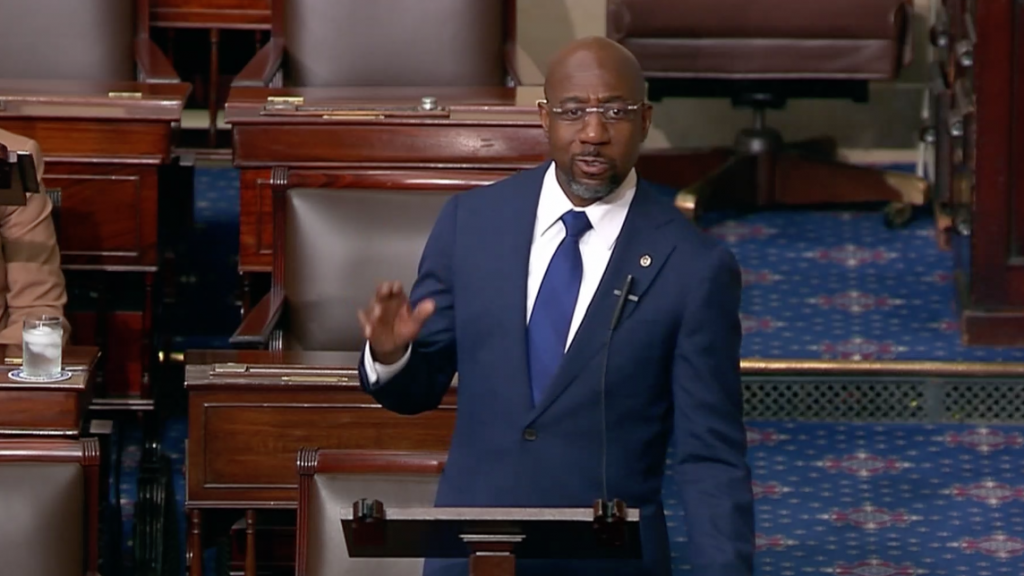 Washington, D.C. — Today, U.S. Senator Reverend Raphael Warnock (D-GA) spoke on the Senate floor in support of Judge Ketanji Brown Jackson's nomination to the United States Supreme Court. The Senator spoke moments before he cast his vote to confirm Judge Jackson.
Watch full video of Senator Warnock's floor remarks HERE.
Mr. President, I rise today to express my joy in voting to confirm Judge Ketanji Brown Jackson to the United States Supreme Court. What a great day it is for the United States of America, for our system of government, and the grand march toward the fulfillment of the sacred covenant we have with one another as an American people. E Pluribus Unum, out of many, one.
Ketanji Brown Jackson's improbable journey to the nation's highest court is a reflection of our own journey through fits and starts towards the nation's highest ideals. She embodies the arc of our history. The verifying product of public schools, both her parents attended segregated primary schools before graduating from historically black colleges and universities. She's a two time graduate of Harvard, a former clerk to Supreme Court, Justice Breyer, to whom the nation owes enormous thanks for his decades of public service. A former Federal Public Defender, who would be the first of her kind to serve on the Supreme Court. A jurist who has gone before the Senate on three separate occasions, and each time has garnered strong bipartisan support. A judge who has heard cases both in the US District Court, and our Federal Court of Appeals. A judge who has the strong endorsement of critical stakeholders from across our justice system, from the American Bar Association, to those who advocate for civil rights, to organizations representing our nation's brave law enforcement officers, all of them respect Ketanji Brown Jackson. She's a wife and a working mom.
She is America at its best. That I believe in my heart after meeting with her in my office, talking to folks whom I trust, who know her and hearing her testimony before the Senate Judiciary Committee. Under intense questioning before the committee, much of it appropriate and necessary, some of it outrageous and beyond the pale. She demonstrated her legal acumen, sharp intellect, and the kind of temperament we need on the bench, especially at a time like this. If there were any doubts about her character, she more than proved her poise, her skill, composure and the depth of her patriotism through the process. Amazing grace under pressure.
As a voice for Georgians in the Senate, I've said from the beginning that people in my state want someone on the court who is fair, eminently qualified, and has a record of protecting the constitutional rights and freedoms of Georgians and Americans. And that's why my office has received thousands of emails and phone calls from Georgians in every corner of our state, voicing their support for just Jackson's confirmation.
So, after hearing from Georgians and thoroughly evaluating her nomination, I'm ecstatic to say that Judge Jackson is an excellent jurist, who has the temperament and discernment to sit on our nation's highest court. Mr. President, the people of Georgia made this appointment possible by making history last year.
So, in addition to thanking Georgia for this moment, I want to acknowledge that the historic nature of her appointment isn't lost on me. Like my brother, Senator Booker. I know what it has taken for Judge Jackson to get to this moment, and nobody's going to steal my joy. Yes, I'm a Senator. I'm a pastor. But beyond all of that I'm the father of a young black girl. I know how much it means for Judge Jackson to have navigated the double jeopardy of racism and sexism to now stand in the glory of this moment in all of her excellence. For my five year old daughter and for so many young women in our country, but really, if we're thinking about it right for all of us, seeing judge Jackson ascend to the Supreme Court reflects the promise of progress on which our democracy rests. So what a great day it is in America.
Today, the word of justice and equal protection under the law becomes flesh and lives among us in new ways. Today, at the highest levels of our government, the administration of our Constitution looks a little bit more like what it says. And it fills me with great pride for our country, how far we've come and what we can achieve together.
Ketanji Brown Jackson is beyond qualified and I'm beyond thrilled to speak for Georgia in voting to confirm her to the United States Supreme Court. Thanks, Mr. President. I yield the floor.
###