During today's Senate Agriculture Committee hearing, Senator Reverend Warnock questioned U.S. Department of Agriculture (USDA) Secretary Tom Vilsack on the implementation of a Warnock-championed program to provide financial assistance to Georgia farmers who have experienced discrimination
Senator Reverend Warnock successfully secured funding for poor farmers and farmers who have faced discrimination in the Inflation Reduction Act, and has continued to press USDA to distribute the relief
Senator Reverend Warnock also recently introduced the bipartisan Promoting Precision Agriculture Technology Act to help farmers farm more efficiently
Senator Reverend Warnock: "It's currently March, and not a dime of financial assistance has gone out to farmers who've faced discrimination, right as they are entering another planting season in the red"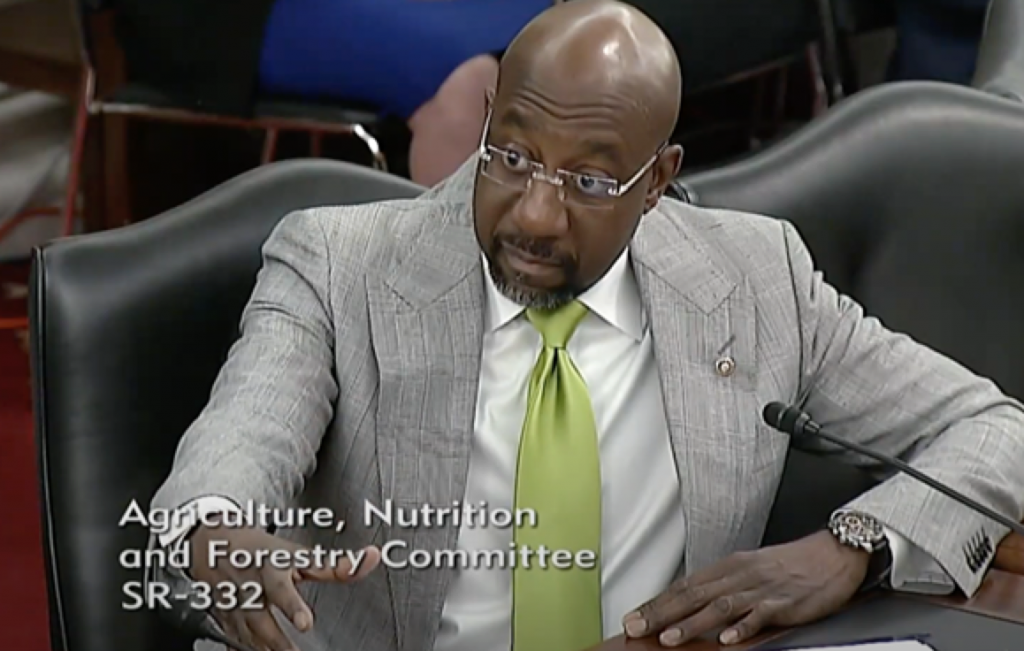 Washington, D.C. – Today, during a hearing of the U.S. Senate Agriculture Committee focused on oversight of the U.S. Department of Agriculture (USDA),U.S. Senator Reverend Raphael Warnock (D-GA) pressed U.S. Agriculture Secretary Tom Vilsack to provide specific details regarding the delayed implementation of Senator Warnock's farmer relief provision in the Inflation Reduction Act, which will bring life-changing relief to Georgia farmers. A longtime advocate for providing federal support and assistance to Georgia farmers who have experienced discrimination, Senator Warnock has repeatedly pushed Secretary Vilsack and USDA to expedite federal help to Georgia farmers, many of whom have faced historic discrimination from USDA or are economically distressed.
"The provision [Section 22007 of the Inflation Reduction Act] was signed into law last August. USDA started distributing funds for economically-distressed farm loan borrowers in October. Bill signed in August, economically distressed farm loan borrowers began to see relief in October.," said Senator Reverend Warnock. "It's currently March, and not a dime of financial assistance has gone out to farmers who've faced discrimination, right as they are entering another planting season in the red. When I run into farmers like Lucius Abrams, and Carl Parker, you know, I can't help but think of that old song by Sam Cooke. It's been a long time coming. And I've been waiting to say a change is going to come. But that change hasn't come. And the longer they wait, the deeper they're in a hole. Can I tell the farmers in Georgia – who have been waiting a very long time – that the USDA will start distributing this assistance?"
See below a transcript of key exchange between Senator Warnock and Secretary Vilsack below:
Senator Warnock: I'm hearing from farmers that they're not clear about the process and when they can expect [further guidance on implementation]. Let me ask you this, will you provide to my office in writing, USDA's proactive outreach strategy for communicating with and updating farmers during the implementation of the process that we've discussed?
SW: All right. Thank you so much.
SV: Anytime you've asked for information, Senator, I've given it to you.
SW: Well, I'm not concerned about me, I'm concerned about the farmers.
[Watch the Senator's full line of questions HERE.]
Senator Warnock has long prioritized helping Georgia's farmers navigate economic challenges and getting farmers the federal support they need to grow and thrive. Senator Warnock fought to secure over $5 billion in relief funding in the Inflation Reduction Act for farmers in Georgia and across the country—including $3.1 billion for economically-distressed borrowers in addition to $2.2 billion for borrowers who have experienced discrimination by USDA. In October 2022, Senator Warnock announced he already secured over $29 million in funds to help economically-distressed Georgia farmers receive relief for qualifying USDA farm loans. The Senator has also elevated the voices of all farmers and producers through a series of moderated conversations with USDA officials.
###