The Senator voted today to pass an updated version of the House's America COMPETES Act, modeled after the U.S. Innovation and Competition Act (USICA) originally passed by the Senate back in June 2021; moves bill one step closer to final passage via conference committee
Senator Reverend Warnock championed this legislation, which would spur job growth and strengthen innovation, research, and manufacturing competitiveness in Georgia
In February, Senator Reverend Warnock successfully urged House leaders to "swiftly pass" vital jobs and competition legislation and secured $1.2 billion in funding for HBCUs STEM programs in the House-passed legislation
Senator Reverend Warnock: "This bill is about ensuring Georgia and the United States maintains a competitive edge in our global economy. As more and more companies specializing in technology, research, and innovation look to move to Georgia, we need to ensure that a qualified workforce is ready to take those jobs"
ICYMI: Senator Reverend Warnock addresses the semiconductor shortage and supply chain vulnerabilities at a Commerce Committee hearing
ICYMI from WABE: Warnock: Increased funding for tech education to benefit schools across Georgia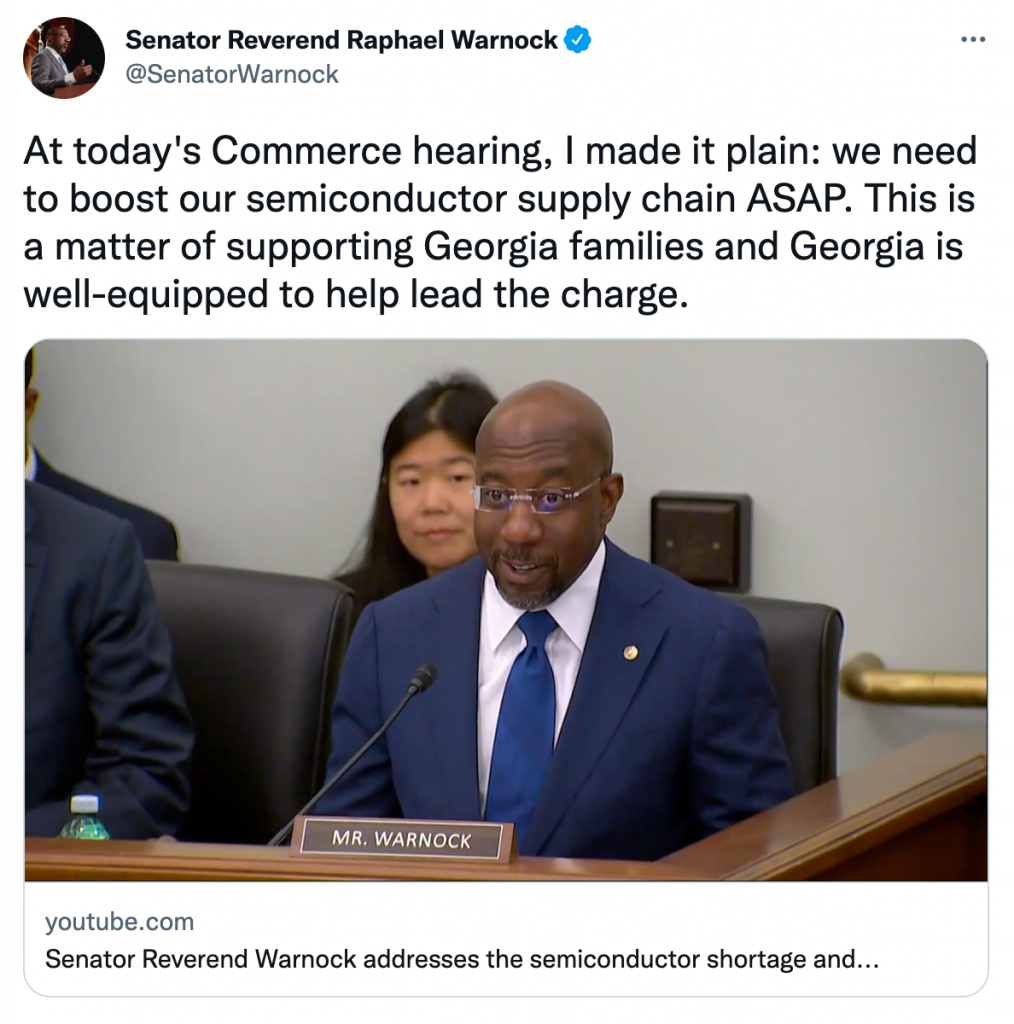 Washington, D.C. – Today, U.S. Senator Reverend Raphael Warnock (D-GA), a member of the Senate Commerce, Science and Transportation Committee, voted to pass the America COMPETES Act, formerly the United States Innovation and Competition Act (USICA), to ensure Georgia remains competitive in the global economy for years to come. This step sends the jobs bill back to the House of Representatives, where it is expected to move into a conference committee to be negotiated and then passed by both chambers. The Senate-passed legislation includes key victories secured by Senator Warnock, including robust investments in STEM research for Georgia's Historically Black Colleges and Universities (HBCUs) and Minority Serving Institutions (MSIs). This critical funding will enable these institutions to hire new administrative staff, train faculty on the grant process, and increase their ability to move products to the market, either on their own or through industry partnerships.
Additionally, the legislation will bolster support for Georgia's growing tech and manufacturing industries—including electric vehicle company Rivian's forthcoming Atlanta-area plant and West Point's Kia facility, currently in operation—to support and create jobs; ease supply chain issues by funding and promoting domestic semiconductor production; strengthen the pathway to good-paying jobs by supporting STEM workforce development; and create regional hubs for entrepreneurship and innovation at renowned research institutions like Georgia Tech and throughout the state.
"This bill is about supporting new local jobs and ensuring Georgia maintains a competitive edge in our global economy," said Senator Reverend Warnock."As more companies specializing in technology, research, and innovation look to move to Georgia, we need to ensure that a qualified Georgia workforce is ready to take those jobs. This legislation makes the necessary investments to guarantee Georgia's workers are ready for the jobs of the future, and we have the resources in our state to keep our economy growing strong."
"Additionally, I was able to secure robust funding for domestic semiconductor manufacturing," continued the Senator."This summer, I visited the KIA plant in West Point, GA that quite literally shut down production because of a semiconductor shortage. This legislation's investments in domestic manufacturing will help prevent the supply chain issues and rising costs we've experienced over the past year. I'll continue to focus on lowering cost for Georgia families however I can."
Since coming to the Senate in January 2021, Senator Warnock has been a vocal advocate for strengthening federal investments to create jobs in Georgia and keep the state's economy moving forward—including pushing hard for passage of UISCA. In June, Senator Reverend Warnock traveled across Georgia to speak with manufacturing leaders and workers, and underscore his work on the federal level to support job creation, research and development funding, and domestic production of semiconductors. The Senator's stops included a visit to the KIA Factory in West Point, Georgia, which was forced to shut down production for two days due to a shortage of semiconductors. Senator Reverend Warnock has helped lead the effort to increase semiconductor production in the U.S., and secured a bipartisan provision in the Senate's USICA bill to prioritize semiconductors in the U.S. supply chain. Additionally, Senator Reverend Warnock authored and fought to include a provision in USICA that will help create jobs in Georgia by spurring innovations in science and technology. The Senator discussed how addressing the semiconductor shortage would lower costs for families at a recent Commerce Committee hearing.
###