Senator Reverend Warnock joined a bipartisan group of lawmakers at the White House to celebrate the signing of the Emmett Till Anti-Lynching Act of 2022
The law will — for the first time in American history — designate lynching as a federal hate crime
More than 4,000 Americans were lynched between 1877 and 1950, nearly 600 in Georgia
Senator Reverend Warnock: "Lynchings were a brutal form of terrorism that took the lives of countless Black people in Georgia. As a U.S. Senator for the State of Georgia, it was deeply meaningful to be at the White House as legislation I cosponsored to make lynching a federal hate crime was signed into law"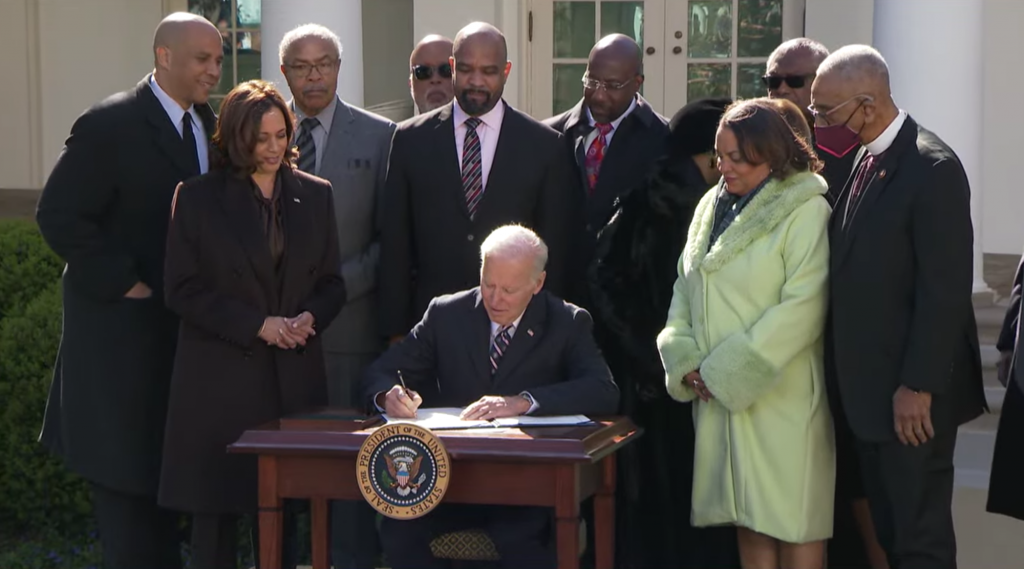 Washington, D.C. – Yesterday, U.S. Senator Reverend Warnock (D-GA) joined Republican and Democratic lawmakers at the White House to witness the signing into law of the Emmett Till Anti-Lynching Act of 2022. The law will — for the first time in history — designate lynching as a federal hate crime. More than 4,000 Americans were lynched between 1877 and 1950, including nearly 600 in Georgia.
Senator Reverend Warnock's Washington D.C. Senate office is in the Russell Senate Office Building, which is named after Georgia Senator Richard B. Russell, who opposed anti-lynching bills during his time in the Senate.
"Lynchings were a brutal form of terrorism that took the lives of countless Black people in Georgia," said Senator Reverend Warnock. "As a U.S. Senator for the State of Georgia, it was deeply meaningful to be at the White House as legislation I cosponsored to make lynching a federal hate crime was signed into law. As a voice for my great state, it's not lost on me that Georgia Senator Richard Russell held this effort up for years. It may take time, but change does come."
Named after Emmett Till, a 14-year old boy who was brutally lynched in 1955, the Emmett Till Anti-Lynching Act of 2022 would amend the United States Code to specify that lynching is a crime that warrants an enhanced sentence under existing federal hate crime statues. After 200 failed attempts by Congress to pass anti-lynching legislation, the effort to criminalize lynching as an instrument of terror and intimidation is now law.
###