Senator Warnock made stops in AUGUSTA, DOUGLAS, GWINNETT, COLUMBUS, ALBANY, VALDOSTA, BRUNSWICK, ST. MARY'S, and KINGSLAND during August travels
Senator Warnock spoke with veterans, farmers, military families, parents, health care and child care professionals, Latino small business owners, transit officials, local leaders and more, highlighting various efforts to move Georgia's economy and communities forward beyond the pandemic
Throughout the month of August, Senator Warnock highlighted strong federal investments headed to Georgia after Senate passage of the Infrastructure Investment and Jobs Act, as well as benefits of expanded child tax credits passed in the American Rescue Plan, advocacy for relief for small farmers, support for veterans, servicemembers and their families, efforts to expand Medicaid, and more
***SEE BELOW FOR HYPERLINKS TO COVERAGE OF SENATOR WARNOCK'S AUGUST "Jobs for Georgia" TOUR***
Washington, D.C. – During the month of August, U.S. Senator Reverend Raphael Warnock (D-GA) crisscrossed the state of Georgia to meet with families, veterans, small farmers, small business owners, infrastructure officials, and local elected and appointed officials across the state to highlight his efforts on the federal level to bring historic infrastructure investments to Georgia, expand affordable health care to all Georgians, strengthen support for Georgia veterans and military installations, bolster the state's small businesses, and provide debt relief for small farmers to move Georgia's economy forward beyond the challenges brought on by the pandemic.

During his multiple visits, Senator Warnock highlighted his efforts in Washington to "put a human face" behind the public policies and investments he's championed and secured. To that end, Senator Warnock heard from military families and veterans following the U.S.'s withdrawal from Afghanistan about how Congress can best support Georgia's military communities; families who benefitted from the expanded Child Tax Credits about how monthly payments from the tax cut are easing their struggles; infrastructure officials regarding how they plan to utilize the billions of dollars in funding being directed to the state to revitalize Georgia's roads, bridges and public transportation; Latino small business owners about the economic challenges their facing due to the pandemic; medical patients and providers on how expanding Medicaid can support their operations and improve patient care; and small farmers about how his efforts to secure debt relief for farmers would help them and how he can best use his role on the Senate Agriculture Committee to support their work.
Read more specifics about Senator Warnock's August travels below:
ATLANTA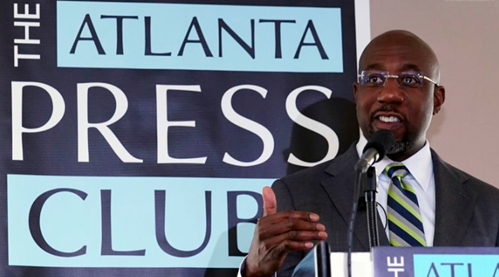 Senator Warnock began his August travels by joining members of the media and local business community leaders with the Atlanta Press Club and the Metro Atlanta Chamber of Commerce, respectively, where he paused to honor the fallen American soldiers in Afghanistan and spoke about his work in Washington to deliver for Georgians. During his separate visits, Senator Warnock underscored his work to strengthen the economy, expand access to affordable health care, support and create jobs, support small businesses and farmers, revitalize the state's aging infrastructure, protect the right to vote, and beyond.
Senator Warnock: "'I like to put it this way: America needs a home improvement project,' the Georgia Democrat told the Atlanta Press Club on Thursday. He said the measure, which awaits House action, will 'provide robust funding to Georgia to repair our aging infrastructure, to address climate change and support job growth that will move our state into the future, especially with regard to jobs.'" – Read more via the Associated Press
MORE:
AUGUSTA
In Augusta, Senator Warnock highlighted how the Infrastructure Investment and Jobs Act will have direct impacts on public transportation in Augusta, and the associated benefits it will have on low-income housing residents and efforts to address homelessness in Richmond County. Senator Warnock then visited the Augusta Regional Airport, where he recently announced over $1 million in funding from the American Rescue Plan, and discussed more forthcoming revitalizations to the airport that would be bolstered by the Senate-passed infrastructure deal.
Senator Warnock: "When we talk about infrastructure we're also talking about jobs, but we're also talking about addressing climate change. Our roads are in disrepair because of neglect over decades, but that disrepair is exacerbated by climate change, that's taking a toll on our roads. So when you're talking about putting money in transit you're talking about connecting workers to jobs, but you're also talking about reducing carbon emissions." – Read more via the Augusta Chronicle
MORE:
METRO ATLANTA
DOUGLAS COUNTY INFRASTRUCTURE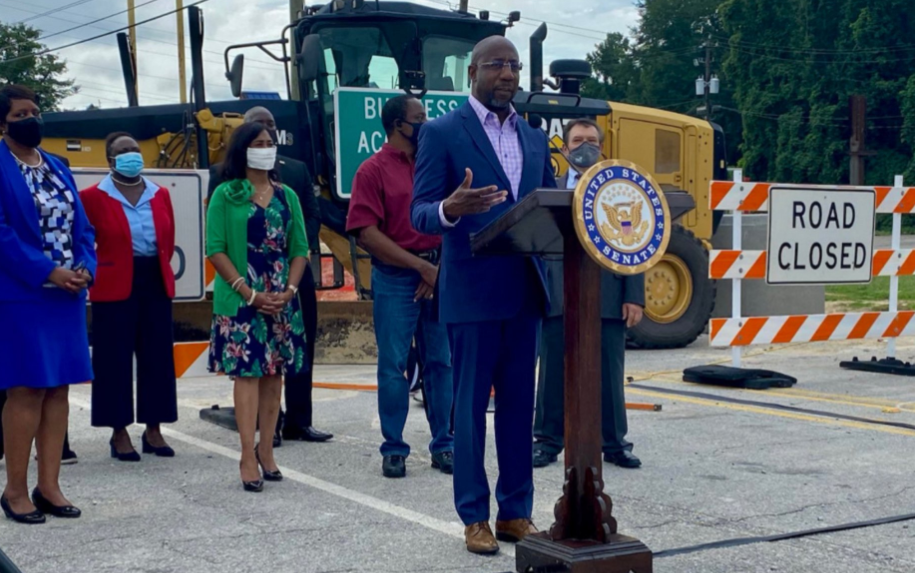 Senator Warnock visited Douglasville to tour the Highway 92 project and announce strong federal investments in the infrastructure deal that would help complete similar infrastructure projects and others throughout the state. The more-than-two decades-long effort led by the Atlanta Regional Commission (ARC) and local elected officials to complete the project has been a major priority for the Douglas County community. Currently, emergency vehicles are hampered from providing services and community residents are slowed by the railroad crossing, disconnecting residents in different parts of the community from vital resources. Through investments included in the bipartisan infrastructure deal, this project along with many others across the state, will receive additional federal funding to help complete the project, which will help reduce traffic, connect the community, and improve public safety.
MORE:
VETERANS ROUNDTABLE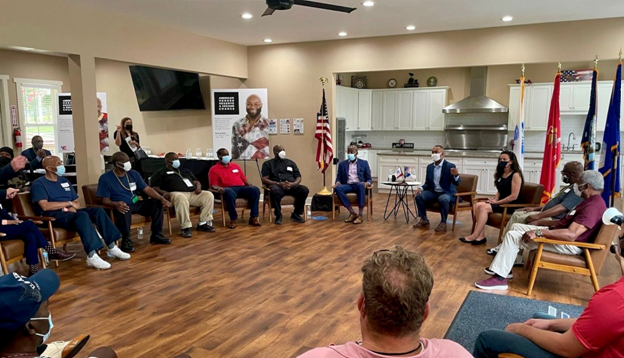 Also while traveling in metro Atlanta, Senator Warnock held a roundtable discussion with veterans at the Veterans Empowerment Organization. He heard about ongoing concerns the veterans have regarding access to community care, phone line issues, and struggles to utilize benefits. Senator Warnock also took the time to hear the veterans' feedback about rising mental health concerns as they navigate post-traumatic stress following the U.S.'s withdrawal from Afghanistan. Senator Warnock recently wrote to the VA about many of these concerns.
MORE:
ATLANTA DREAM
Senator Warnock attended the Atlanta Dream's home game against the Phoenix Mercury. The Atlanta Dream were recently recognized as ESPN's Sports Humanitarian Team of the Year because of their community involvement, activism, and efforts to mobilize Georgia voters. Senator Warnock thanked them for their work in the community and their impact across the state of Georgia.
MORE:
COASTAL GEORGIA
MILITARY FAMILY ROUNDTABLE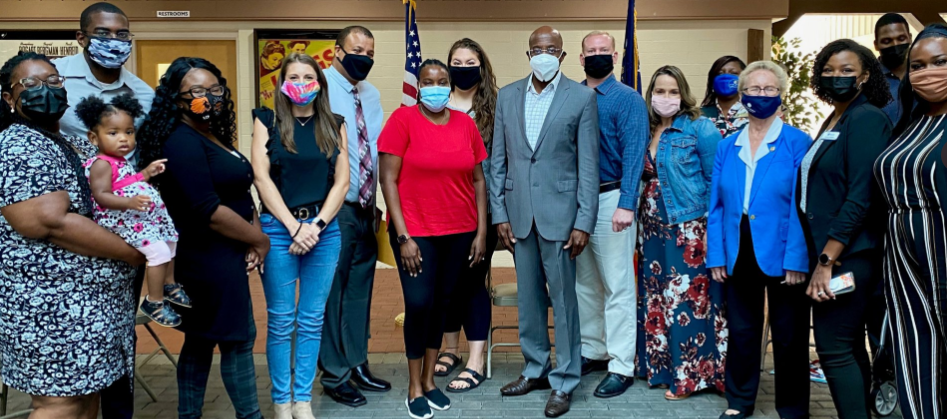 Later in the month, Senator Warnock traveled to Kingsland where he met with military families and heard their concerns regarding military spousal employment, rising child care costs, and the need to improve military housing. Senator Warnock began by holding a moment of silence for the American troops who lost their lives in the Afghanistan evacuation before leading the group in prayer. Senator Warnock then echoed his support for Georgia's military families and installations, and how the proposed $3.5 trillion infrastructure bill will help address many of the issues he heard.
MORE:
KINGSBAY NAVAL SUBMARINE BASE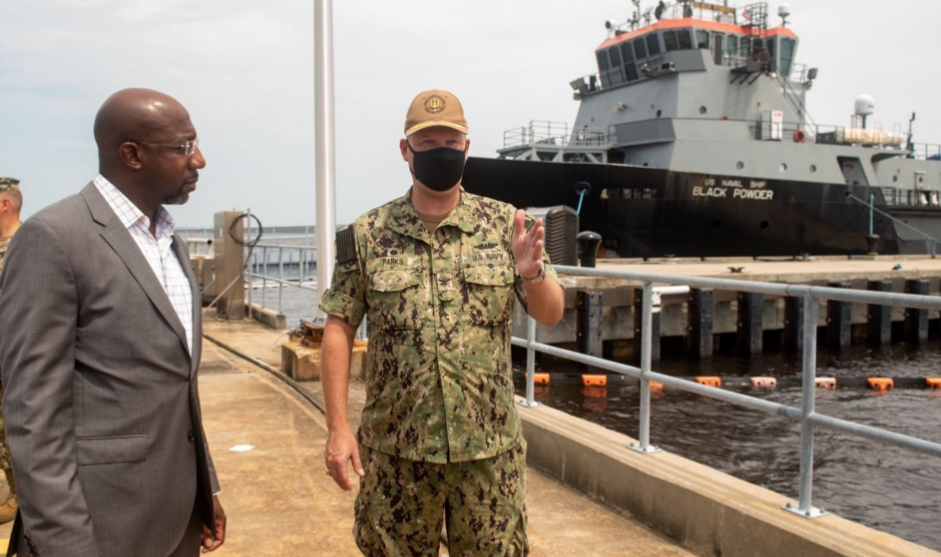 Senator Warnock toured the Naval Submarine Base in St. Mary's. The Senator was briefed on the base's operations that employ 10,000 military and civilian personnel in the region, and make an annual $1.14 billion regional economic impact. While meeting with local military personnel, Senator Warnock shared his unwavering support for Georgia's military installations and the work he continues to do to ensure Georgia military servicemembers and their families are taken care of.
CUMBERLAND ISLAND FERRY STATION/BRUNSWICK PORT
Senator Warnock speaks on the importance of investing in infrastructure for local economies and Georgia's waterways at Brunswick Port
At Cumberland Island Ferry, Senator Warnock met with ferry officials on the funding he secured in the bipartisan infrastructure deal to improve Georgia's water infrastructure and how investments in deep water ports will benefit operations. He later visited Brunswick Port where he further highlighted how federal investments from the infrastructure package will help strengthen Georgia's ports and ferries.
Senator Warnock: "Georgia is a multi-modal state. And no matter if you live in Savannah or a smaller, more rural part of Georgia infrastructure improvements are needed everywhere."
MORE:
VALDOSTA
In Valdosta, Senator Warnock met with local community leaders of Valdosta and Lowndes County. He heard concerns about transportation, gun violence, health care, homelessness, and more, and shared with local leaders the work he is doing on the federal level to address these issues. Senator Warnock also attended football games of Lowndes County, Griffin, and Valdosta high schools where he met and spoke with community members of South Georgia.
MOODY AIR FORCE BASE
Senator Warnock toured Moody Air Force Base, where he discussed his successful efforts to secure $12.5 million in the annual Senate funding bill for military construction for the 41st Rescue Squadron HH-60W Parking Apron. The base employs 4,100 military and civilian personnel with an estimated regional impact of $750 million. Here, Senator Warnock observed and received a briefing on the base's operations.
Senator Warnock expressed his support for the men and women who serve at Moody. In addition, Senator Warnock had an opportunity to greet and pray with a group of servicemembers who were headed to Holloman AFB in New Mexico to support the Afghanistan humanitarian mission by providing security to resettled Afghan nationals.
Senator Warnock: "We ask a great deal of our service men and their families, and I think the events over the last several days have reminded us of the gravity of their sacrifice." — Read more via Valdosta Daily Times
GWINNETT COUNTY
LATIN AMERICAN ASSOCIATION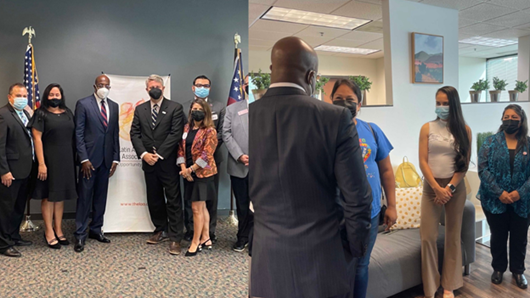 During additional travels in metro Atlanta, Senator Warnock met with the Latin American Association and discussed a varying range of issues with its members, including strengthening access to health care, economic empowerment in the Latino community, the benefits of the expanded Child Tax Credit for members of the community, infrastructure revitalizations, DACA, and more. Additionally, Senator Warnock met and heard from families who benefit from the expanded Child Tax Credit, as well as DACA recipients.
LAS PLAZA AMERICAS
Senator Warnock visited one of the most diverse Latino business communities in Georgia, Las Plaza Americas. Here, Senator Warnock highlighted his work on the federal level to support small businesses in Georgia including strengthening the Paycheck Protection Program, and his ongoing work with Republican Senator Marco Rubio (R-FL) to pass the Small Business Credit Protection Act that would help protect small businesses from costly security breaches, and more.
Senator Warnock: "These are folks who are pushing their way through a once in a century pandemic and there's work for them to do, but there's also work for the federal government to do. The best thing we can do for small businesses right now is to get this pandemic under control, so we need people to get vaccinated and we need to make sure that the word gets out about the importance of being vaccinated and practicing social distancing, wearing a mask. All of these things are very important." — Read more via the Gwinnett Daily Post
MORE:
CONSULTORIO MEDICO HISPANO
After Senator Warnock's work to secure his Medicaid Saves Lives Act in the forthcoming economic package, he held a roundtable discussion with patients and providers at Consultorio Medico Hispano. There, he heard of the uphill battles providers encounter while providing health care services to uninsured patients, and how access to affordable health care would improve health outcomes and quality of life for the community's patients. Medicaid expansion in Georgia would mean the majority of patients at Consultorio Medico Hispano would have access to health care coverage; currently, approximately 13% of uninsured Georgians are Hispanic.
MORE:
ATLANTA VA
Senator Warnock made a visit to the Atlanta Veterans Affairs (VA) Medical Center in Decatur. He took with him the concerns he had recently heard at the Veterans Empowerment Organization as well as previous concerns shared with him by Georgia veterans. In July, Senator Warnock led a letter to the U.S. Department of Veterans Affairs to address the concerns of Georgia's veterans, and recently led efforts urging the VA to conduct outreach to veterans to connect them with mental health resources following the U.S. withdrawal from Afghanistan.
COLUMBUS
EXPANDED CHILD TAX CREDIT ROUNDTABLE & HIGHER EDUCATION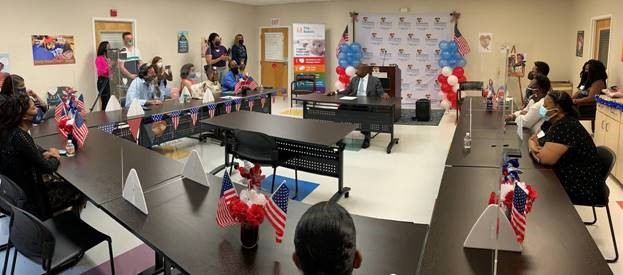 As a leading voice to eliminate child poverty in America, Senator Warnock held a roundtable conversation with Columbus families who are benefiting from the expanded Child Tax Credit (CTC). Senator Warnock heard how parents are receiving a sense of peace and security from these monthly payments, and how CTC payments are helping cover back-to-school and extracurricular expenses, as well as purchase diapers, food for their children. He shared with the parents how he is working in the Senate to make this tax cut for working families permanent.
Later in the day, Senator Warnock delivered the keynote address for an event supporting UNCF Columbus, where he spoke about his efforts in Washington to strengthen federal support for HBCUs and underrepresented college students.
Senator Warnock: "When I head back to Washington, it is these faces and stories that will be in my memory. They will remind why I do this [push for expanded child tax credits permanence] in the first place"
MORE:
ALBANY
GEORGIA AND FLORIDA RAILWAY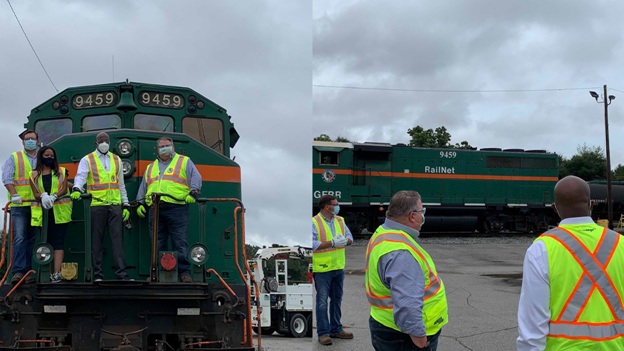 Senator Warnock visited the Georgia and Florida Railway (GFRR), a short line railroad operating in Georgia and northwestern Florida. GFRR operates over 222 miles of multiple rail lines, most of which radiate out of Albany. Senator Warnock was briefed on how the rail lines increase connectivity and benefit communities across the country, especially in South and Southwest Georgia. Senator Warnock shared how he fought to secure $5 billion in the bipartisan infrastructure deal for the Consolidated Rail Infrastructure and Safety Improvements program (CRISI) which will benefit the short rail operations in Georgia.
SMITHVILLE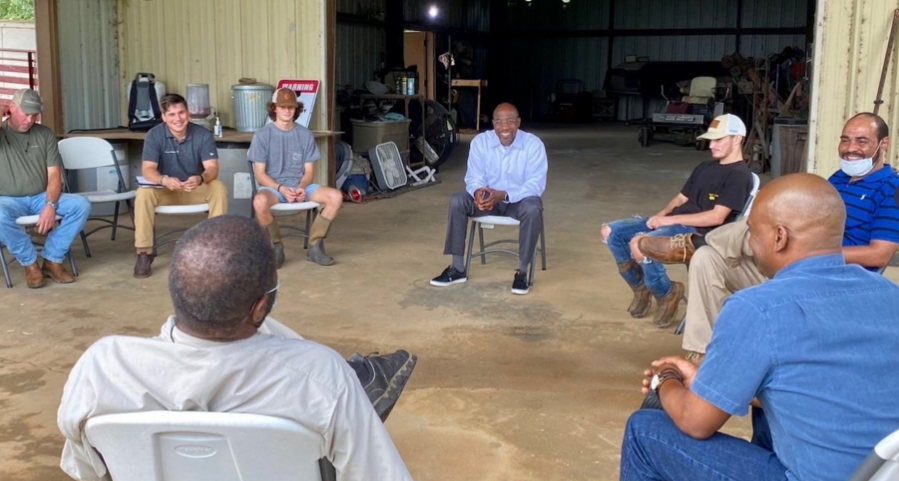 Senator Warnock concluded his travels on a small farm in Smithville meeting with farmers from across the community. He listened to their concerns and heard more about how their farming operations have been impacted by the economic and workforce consequences of the pandemic. Senator Warnock shared why he worked hard to be on the Senate Agriculture Committee and the priorities he is looking to address in the forthcoming economic package, including debt relief for small farmers who have been hurt economically during the pandemic.
MORE:
###