Today, Senators Reverend Warnock and Mike Braun introduced the bipartisan HEADWAY Act, which would address staffing shortages in the child care workforce by allowing Early Head Start classroom teachers to teach and earn their Child Development Associate (CDA) credential simultaneously
This bill will help pave the way for greater hiring flexibility, attract more qualified candidates to the profession, and ensure that Early Head Start classrooms are fully staffed—strengthening the nation's child care infrastructure
As of February 2023, 19% of Early Head Start and Early Head Start staff positions remained vacant nationwide
Senator Reverend Warnock: "I'm so excited to introduce my bipartisan HEADWAY Act, a bill I'm offering with my partner, Senator Mike Braun, that will help strengthen our childcare workforce. This is good public policy for Georgia and the nation, and I'm determined to get this passed"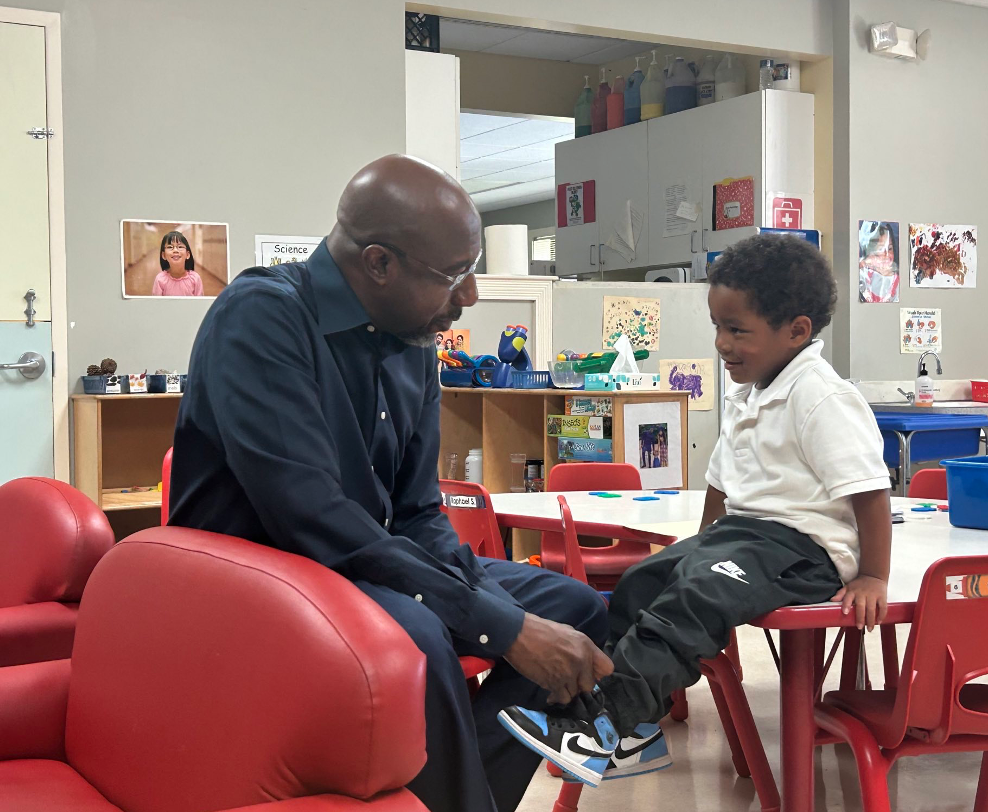 Click here for a one-pager on the HEADWAY Act
Washington, D.C. – Today, U.S. Senator Reverend Raphael Warnock (D-GA), one of only two Head Start alumna to ever serve in the Senate, along with Senator Mike Braun (R-IN), introduced the bipartisan HEADWAY Act (Head Start Education and Development Workforce Advancement and Yield Act. The bill would address early child care workforce shortages by allowing Early Head Start classroom teachers to teach and earn their Child Development Associate (CDA) credential simultaneously. The HEADWAY Act will help pave the way for greater hiring flexibility, attract more qualified candidates to the profession of early childhood education, and ensure that Early Head Start classrooms are fully staffed. Increasing the number of teachers in classrooms will enable Early Head Start to have more slots available to children from vulnerable families, as the program requires a certain ratio of teachers to students. The HEADWAY Act will allow Head Start to fulfill its commitment to providing high-quality, early childhood education for children from vulnerable families, laying the foundation for their future success. The HEADWAY Act will support Early Head Start learning professionals, and give program directors the flexibility they need to respond to employment trends, while still maintaining the high standards and professionalization of the field.
"As a proud Head Start alumnus, I know the foundations I learned in Savannah helped pave the way for a kid like me to go from living in public housing to becoming a United States Senator," said Senator Reverend Raphael Warnock. "I've seen how hard it is for hardworking Georgia families to get affordable, quality child care, partly because of the lack of childcare professionals in their communities–which puts a strain on parents and hurts our economy. And as the father of two young kids, I know how crucial education in those formative years is to their continued growth. That's why I'm so excited to introduce my bipartisan HEADWAY Act, a bill I'm offering with my partner, Senator Mike Braun, that will help strengthen our childcare workforce. This is good public policy for Georgia and the nation, and I'm determined to get this passed."
"One of the top concerns I hear from Hoosier families is the challenge of finding affordable, high-quality childcare, which limits a parent's participation in the workforce. This bipartisan legislation I am introducing with Sen. Warnock will help address the workforce shortages in childcare by creating flexibility and opportunity for childcare professionals, without increasing government spending," said Senator Mike Braun.
In August, Senator Warnock returned to his hometown of Savannah, Georgia to tour Early Head Start classrooms at the Economic Opportunity Authority (EOA) for Savannah-Chatham County and hear from local early learning leaders about the workforce shortages impacting this critical early education program serving low-income families and their children.
Early Head Start serves infants, toddlers, and pregnant women, catering to children from birth to age three. This program emphasizes early intervention and prenatal care, providing high-quality early learning experiences for young children in community centers or through home visits. Early Head Start offers a range of services, such as child development activities, health screenings, nutrition support, and family engagement, to support the needs of both children and expectant mothers. According to the Department of Health and Human Services: "Children enrolled in Head Start programs are more likely to graduate from high school and attend college; have improved social, emotional, and behavioral development; and are better prepared to be parents themselves.
Post-pandemic staffing shortages have significantly hindered the ability of Early Head Start classrooms to serve at-risk children from birth through age two. A September 2022 survey by the National Head Start Association revealed that 77% of respondents reported higher-than-usual staff vacancies, with 66% noting a lack of candidates with the required qualifications. As of February 2023, 19% of Early Head Start and Early Head Start staff positions remained vacant nationwide. Data from the Bureau of Labor Statistics shows that childcare workforce numbers are still well below pre-pandemic levels.
Senator Warnock's HEADWAY Act is endorsed by the National Head Start Association and the Georgia Head Start Association.
"The HEADWAY Act is designed to empower Head Start to prioritize the professional development of our people and invest in their growth. By offering a career stepping stone, we can improve Early Head Start's capacity to serve and ensure we remain competitive and adaptable in an ever-changing workforce market. Ultimately, it will pave the way to a brighter future where children and families in Early Head Start have the opportunity to flourish and the early childhood education profession to thrive. We applaud Senator Reverend Raphael Warnock—a proud Head Start alumnus—for his commitment to supporting Head Start and Early Head Start, and for his belief in the potential of our people to bring Head Start to new heights," said National Head Start Association Executive Director Yasmina Vinci.
"By investing in professional mentorships for our youngest learners we're not just building a brighter future- we're illuminating the path to success for generations to come," said Georgia Head Start Association Executive Officer Juanita Yancey.
Bill text can be found here. A one-pager can be found here.
Key aspects of the bill are described below:
Permit some Early Head Start classroom teachers to be in the process of earning their CDA credential while retaining the requirement that at least one teacher in every classroom is fully credentialed with at least a CDA.
Require mentorship within the program to facilitate and ensure continued progress toward earning the CDA.
###